I've never had a CE device that exceeded my expectations. Until now.  My Connected Home includes devices that enable me to stream media between devices on my network, but which also provoked frustration because of half implemented codec support and DLNA protocols. I thought I had true DLNA love back in July 2009 with a Samsung TV, but the lack of firmware updates for DLNA compatibility (such as support for WMA music) eventually caused me to realize it was just a summer romance. Samsung seems to abandon devices after 6 months or so, and concentrates on newer products.
Like many others, while I'd love a new DLNA certified Home Theater receiver DMR, the price range for these is currently $900+. And the Samsung TV is relatively new.
Enter the WD TV Live Hub. This >$200 little box does it all. Like many Home Theater enthusiasts looking for optimum solutions that provide Windows 7 Play To functionality, I've been frustrated and was not looking for an expensive solution. This is a very small box with gargantuan capabilities, including a 1TB hard drive to store your favorite media on.
| | |
| --- | --- |
| | |
Lots of jacks, including HDMI and SP/DIF, plus USB ports front and back (for connecting USB drives, USB Flash Keys, Wireless Adapters, Keyboards, etc.) For size comparison, in the image above on the right, the WD TV Live Hub sits atop a Samsung BD Player, which sits atop my (broken RRoD'd) Xbox 360. No HDMI or Optical SP/DIF cables are supplied, so you will need your own for the best AV experience. There is an included quick set up poster type guide supplied in the box, but no manual /user guide in the retail box, but it is available online for download in PDF format.  Most of my manuals are still in shrink wrap, so, as usual, I just jumped in without  a net.
I connected an HDMI cable from the device to my TV and an optical cable from the device to a SP/DIF port on my home theater receiver. I also plugged a wired Ethernet cable in to the device and into my D-Link DAP-1522, which provides wireless connectivity as an access point client (like a gaming adapter).  There is a list of supported USB Wireless N adapters, (as well as everything else that WD tested for connectivity including TV's, routers, etc.) but I found that the one I tried wasn't as good as the DAP-1522, or MoCA. More later on Network connectivity and speeds.
The WD TV Live Hub by default checks for new firmware. Downloading and installing the firmware that was available was quick and easy.
Once the device restarted with the new firmware, I was ready to try Windows 7 DLNA Play To functionality. One of the best references for Windows 7 Media Streaming and Play To can be found on MSDN.
The WD Live player showed right up in my list of devices since I previously enabled all the settings that are needed.
I selected some music as a first test:
Which started playing immediately with a display showing that the content was from Windows 7:
The next thing I tried was Windows Media Center Recorded TV. All the DRM rules apply, but unprotected content, such as this Stargate episode recorded from SyFy (SciFi) streamed beautifully and looked and sounded great.
On one of my desktops, I have a few favorite Blu Ray movies that I own ripped to MKV. Windows Media Player Streaming/Play To does not recognize the MKV extension, but if you have the appropriate bits (DivX is one option) and rename (or copy) MKV to WMV, you might just find that it works! In my case, this works from both Windows Explorer and Windows Media Player:
Avatar streamed without a glitch, with 5.1 Dolby at 1080p – you may see information quickly displayed as the stream starts, but the blue light in the center of my Sony receiver confirms 5.1 if I blink and miss the info on the screen.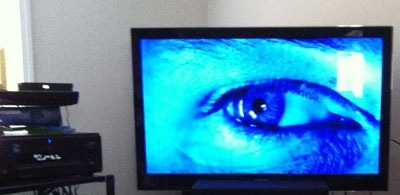 Bottom line, every file type supported by WMP seems to flawlessly "just work" when I use Windows 7 Play To.  If you are looking for a reasonably priced device to enable Windows 7 Play To in your home, I highly recommend the WD TV Live Hub.  The complete list of DMR's certified to work with Windows 7 is posted here.
While the WD TV Live Hub does have 1TB internal storage, I have a large collection of Recorded TV, plus a few ripped DVD and Blu Ray movies already residing on three Windows 7 desktops, a Vail/WHS 2011 beta machine (which supports Play To if you log into the machine and configure WMP – which you aren't supposed to do) and 5 TB on NAS. So Windows 7 Play To is almost a necessity in my connected home. I do have a couple of Media Center Extenders which I use on both of my HD TV's for HD via CableCard (ATI  DCT/OCUR) viewing.
I mentioned the Networking capabilities of the WD TV Live  Hub a bit earlier. Unlike devices from vendors like Sony and Samsung, etc.. who provide wireless N networking only via their own usuriously priced proprietary USN adapters, WD has done the right thing by providing support for off the shelf wireless N USB adapters. Some may work better than others. I tried a Linksys  WUSB600N V2 which the WD device immediately recognized and allowed me to browse available SSID's, enter a WPA2-AES passphrase, and then use. I found the DAP-1522 (or my MoCA) connection to be more reliable, but this may be a function of the particular Linksys USB adapter that I happened to have laying around. Both the DAP-1522 and MoCA handled the 1080p/5.1 stream perfectly. The source computers are two floors away.  Rather than run up and down the two sets of stairs (and being a couch potato by choice), I use Windows Remote Desktop (RDP host is supported in W7 Professional, Ultimate and Enterprise, but not Home Premium- any version can be a RDP client) to log into these computers from the comfort of my sofa and use Play To via RDP.
In addition to the complete support for Windows 7 Play To, as a DLNA DMR, there are various options to stream media between devices. Being the aforementioned couch potato, after checking out Windows 7 Play To, my instincts were to fire up my iPad and PlugPlayer.  I was easily able to setup PlugPlayer to use the WD Device as the renderer.
And sent my ripped Avatar from the host computer to the WD TV Live Hub
Since the WD TV Live Hub has 1TB of storage, I decided to copy some of my favorite content to its built in hard drive. WD has software available on their website for managing and copying/content, but Windows Explorer handles this kind of task natively, and being a minimalist when it comes to software, that is the route I selected. The device shows in the network window and you can browse, create/rename folders, copy content, etc. easily.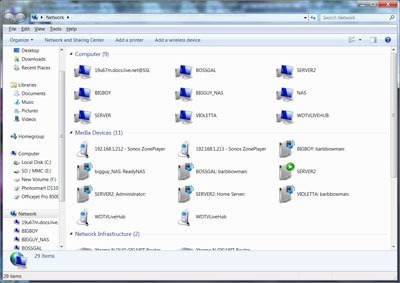 I found that copying over the network was time consuming, so I let it run overnight. I had two MKV files (about 15 gigs each), about 20 gigs of music and 25 gigs of photos. Not sure how long it took, but it was completed when I checked it the next morning. I found info in the downloaded PDF User Guide about thumbnails for ripped movies. Just create a filename.jpg with the same name as filename.mkv (etc.) and it once again, just works.
There are lots of settings that are customizable, including selecting your own photos as a screensaver and setting your own background. I've set my own background, and am about to try to find out where that 49 degree temperature is coming from.  The menus are self explanatory and tell you when the device finds new items.
On top of all of this, Netflix, Pandora, YouTube and Facebook (and more) are available.
The WD TV Live Hub just seems to do everything, like a Swiss Army knife. Because it employs flawless and solid Windows 7 DLNA Play To functionality and has support for a massive number of file formats and codecs, this is THE device to grab as it really does fully embrace DLNA and it really "just works".  If your interested in discussing this, and/or other DLNA devices, see The Green Button  Play To, DLNA, Etc. Forum.