I'm often asked "where can I get a USB-C to HDMI cable for my Surface Pro 8 or 9 that will work" or "is there a properly fitting keyboard skin for my Surface Laptop to protect it". Shopping for Surface accessories on the Microsoft Store for Business/Microsoft Store isn't always the best way to find the correct video cable or find a skin to protect your Surface keyboard. While the Microsoft Stores have a good variety of accessories, nearly all the items are Microsoft Surface OEM items, made by Microsoft. It turns out that there are a large number of officially licensed accessories, designed for Surface and manufactured by third party vendors. There is a small write up at Licensed Hardware – Designed for Surface Program | Microsoft Learn which provides some information and links to the actual site Designed for Surface Catalog (aka.ms) where these items are showcased.
The site is well organized and, not only can you search for accessories, but you can access by Device, Category, Industry and Manufacturer.
Tip: Be sure to drill down by category and then by device compatibility. I found a keyboard skin for my Surface Laptop Studio this way (just selecting Decorations and Skins yielded no results).
I found many items that others had recently asked me about, including a Cable Matters 2.5GB USB-C to Ethernet adapter and an interesting dock from Brydge for Surface Pro 8.
I did do a double take when I saw a 65W PD USB-C adapter from Anker for $4490, but when I drilled down, details showed "Only available in Japan (pricing in JPY Japanese Yen)".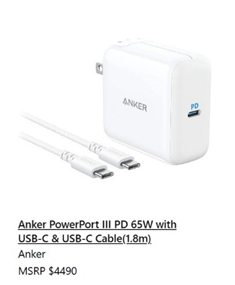 You don't need to be a commercial or education customer to purchase items from the Designed for Surface site, and I'll definitely be sending both business and consumer customers here.