Update Your Microsoft Wireless Display Adapter Firmware
Microsoft has released a firmware update for the Microsoft Wireless Display Adapter which may help some users experiencing connection problems (black screens, disconnects, etc. The "gotcha" is that in order to update the firmware, you have to have access to a TV/Monitor where you can make a successful Miracast connection and run the Windows Store App http://apps.microsoft.com/windows/en-us/app/microsoft-wireless-display/92ecc09f-9f01-4f9d-9e04-dd412d758b1a that lets you update the firmware. Once you have connected successfully to a Miracast session, here are the steps to update the MWDA:
1. You need to create a password in order to access settings and update firmware, minimum six characters. Create this password and confirm it.
2. Update message will appear (close the app and sign back in if needed). Select Download.
3. Tap/click the blue update button
4. Tap/click the Start button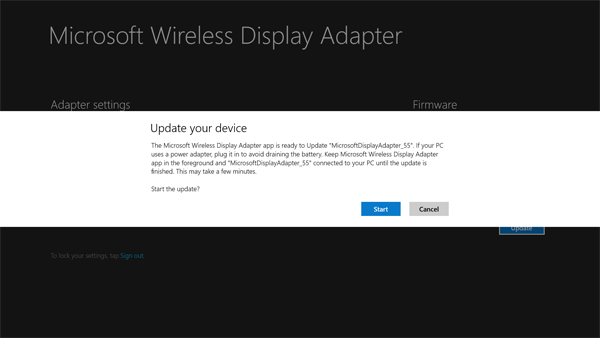 5. You can view the progress bar (and also you can view on the connected TV; the update is very fast and you might miss it if you blink!
6. You will see a success message (hopefully).
7. Close the app and verify you can connect to the TV that you used to perform the update.
8. Connect the MWDA to the TV you previously experienced problems and see if your issue is resolved.