Adobe's PDF file format is one of those things I've always had a love/hate relationship with. I've got ton's of PDF documents loaded with 6 or 7 languages (or more) that I don't speak and other useless information. Fortunately, I've had Able2Extract, a great tool from Investintech that let me manipulate and extract PDF files to common file formats like Word, Excel, HTML, etc. and then remove the extraneous data. Previous to the latest release of V9, I've created Word files of these skinned down PDF's and used Word to convert back to PDF format (smaller files, easier to search, etc.).
I'm also still extracting snippets from PDF's, as I wrote about here. Just yesterday I set up a new cordless phone system and needed 3 of 102 pages from a PDF file to zero in on the functions I needed to program immediately (and as a reference sheet). I turned to Able2Extract automatically. It's a "go to" tool that simplifies my digital life.
Investintech has just launched Able2Extract V9, and has added powerful PDF creation abilities to already great PDF conversion functionality, including the ability to create secure, password protected PDF files and specify what tasks like copy, print, etc. the recipient can perform. This is great news for people like me who want to present their work but prevent others from copying it or manipulating it. I think of this feature as digital rights management for PDF's (DRM).
Exploring the cool new PDF creation tools
The top level GUI interface in V9 adds a Create function, which let's you open an existing document for conversion to PDF. You'll see the standard file picker and can easily load up your source document.

There are a lot of reasons I use PDF's, mostly to create layouts so that others viewing my documents see a finished piece as I authored it with page breaks as I intended and margins positioned as I intended. Microsoft Word 2013 lets me create PDF's and encrypt with a password, but Word won't allow me to protect further by specifying advanced options (preventing copying, disassembling, etc.). Able2Extract 9 provides me with a whole host of customizable parameters. Once I've loaded a documented to convert to PDF format, the next step is to select the View menu, PDF Creation Options to fine tune the viewer experience and specify what capabilities are allowed.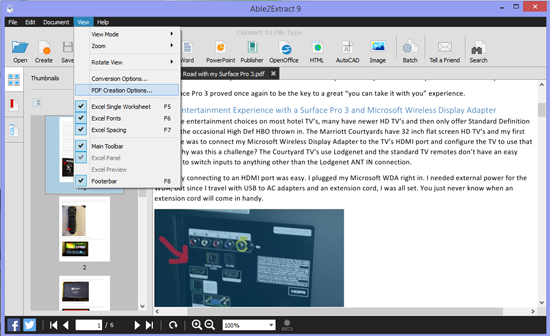 PDF Creation Options allows me to specify metadata and more, and includes functionality to fine tune how MS Office documents are handled. Here are a couple of screen shots showing metadata and MS Office document handling parameters.
The Security tab allows me to create a secure, password protected PDF (which MS Office can also do using a single password) but Able2Extract 9 provides both a User and Owner password function (extra protection for the creator) and more importantly, it offers the ability to control what the viewer can do with the PDF document via a robust Permissions feature. Comparing the PDF creation options between Able2Extract and Word 2013 (see screenshot below where Able2Extract's permission feature is on the left and MS Word's feature for permissions is on the right), its clear that Able2Extract 9 offers a huge advantage. Just uncheck the functions you wish to prohibit (you can save these as defaults as well or save a set of parameters to a file that you can load for future use).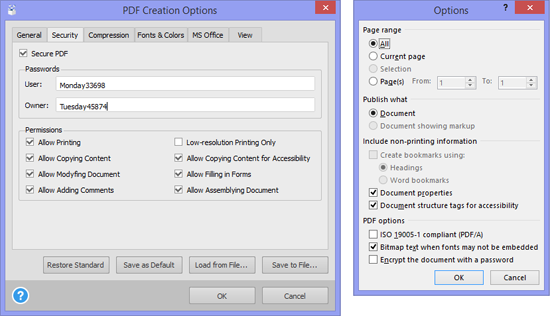 Coupled with all of the above new creation capabilities are NEW PDF editing features. This includes the ability modify the Document Information and Viewing Preferences for a  PDF file as well as making changes to pages (delete, resize, rotate, scale or move PDF pages). And with the ability to manipulate, extract and convert PDF files to other formats, Able2Extract V9 is a application that should be considered in any SOHO, business, and even high end consumer environment. You can download a 7 day trial version and experience all this great functionality and see if it fits in your toolbox as well as it fits in mine!