Microsoft, Your Users are Crying for Surface Pro 3 WiFi Fixes
Reading the Microsoft Community Surface Pro 3 Forums has become unbearably painful. There are three major threads and several others with large numbers of customers begging for relief from persistent WiFi issues. The numbers are growing. A capture from this morning shows: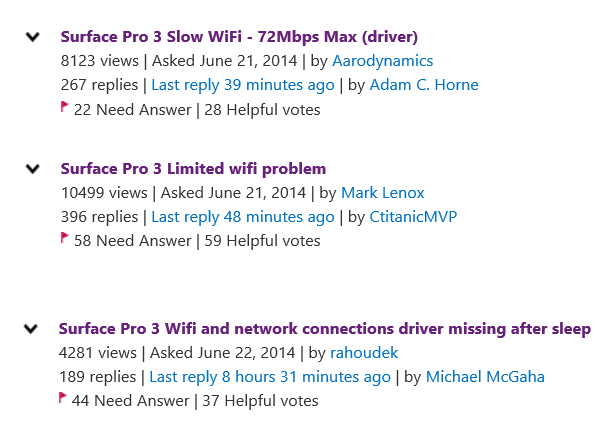 You can be sure that the number of people lurking and not posting is far larger than the number of replies.
Surface Phone and Chat Support has had people refreshing and resetting (which won't resolve these issues) and they've replaced hardware. Some folks have replaced their hardware 4 times.
The official Forum support folks posted a vague statement a while back that "fixes would be available in the September timeframe'. It's hard to tell if they even have a handle on the various issues since their participation has been abysmal. Refresh/reset is not participation.
Some of the worst issues:
1. Persistent slow WiFi
2. Adapters for WiFi/BT go missing after wake from sleep
3. Connection drops during use and goes Limited
4. Machine goes to sleep at home, travel elsewhere and on wake, SP3 doesn't realize environemnt has changed and reports old SSIDs and does not see current SSIDs.
There are reports of some routers that the Marvell WiFi in the SP3 won't connect to at all. If the same SSID name is used for 2.4 and 5GHz, the Marvell WiFi never sees the 5GHz.
Microsoft, you need to ENGAGE with your users and give them a status. The forum has turned ugly. I'm done trying to support your users on this issue. I know they don't mean to take out their aggravation on me, but I'm not willing to get beat up.