Fixing PhotoShop CS5 Tiny Menus and Icons on Surface Pro 3
One more of my "this is driving me crazy" issues on my Surface Pro 3 is now resolved. I haven't bought into Adobe Creative Cloud, even with the $10 a month special deal for photographers, mostly because I bought the stand alone LightRoom 4 and didn't see Photoshop CS6 as being worth $10 a month. I was, however, miserable trying to use the tiny menus and toolbar icons in Photoshop CS5. Until today.
I read alot of online sites and forums, and after this past weekend, was making my Monday rounds and came across http://forum.tabletpcreview.com/microsoft/63504-workaround-tiny-photoshop-ui-surface-pro-x-other-apps-other-hi-dpi-screen.html which lead to some reading https://onedrive.live.com/view.aspx?cid=4BE668230430EFDD&resid=4BE668230430EFDD%21947&app=Word, and http://tinyurl.com/m99e8xc and finally to https://onedrive.live.com/?cid=4BE668230430EFDD&id=4BE668230430EFDD%21935 and some pre-made files. I carefully examined the files and set a restore point on my SP3. I placed the external manifests in the proper folders and ran the registry file. Whoa!
You can click/tap the image below to enlarge it to full size 2160 x 1440 to see totally usable menus and toolbar icons.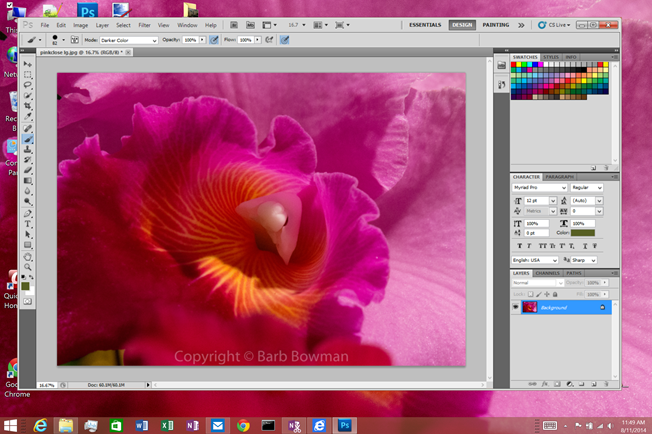 I'm one happy camper. My thanks to "Scrambler" for this one.