Surface Pro 3 Rear Camera Driver is dated 2006
I'm one of the people who is unhappy with the ability to use my Surface Pro 3 to take a usable, in focus, photo of a document, due to Microsoft's decision to change from a great working variable focus camera in prior models to a dumbed down fixed focus camera. There's a thread on Microsoft Communities about this, http://answers.microsoft.com/en-us/surface/forum/surfpro3-surfhardware/surface-pro-3-camera-quality/52a2b69b-aa2e-49bb-8287-55dd37f60c6a with no real answers from official Microsoft support personnel.
I was looking around in device manager today to see what drivers the cameras were using and when they were issue and nearly went into shock. While the front camera has a driver from 2014, the rear camera, on my Surface Pro 3, is reporting a driver from 2006.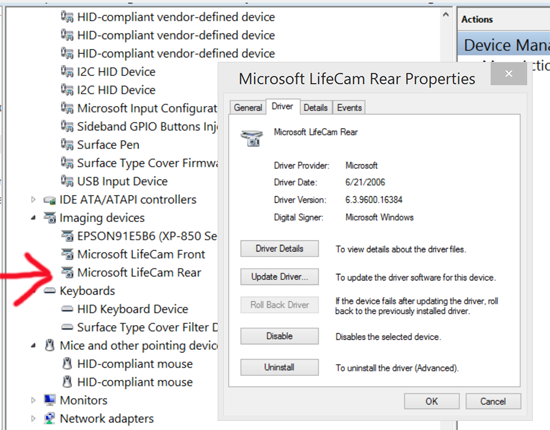 Now, it may be that the default driver date for ALL Windows drivers is 2006 (Vista era), but the front camera shows 2014. This is just sloppy. I took alook at the details for this driver and there were two. The ksthunk.sys driver reports a driver from a year ago, 8/22/2013.
I wish someone from Microsoft would comment on the poor decision to use the fixed focus camera and respond to unhappy customers in the Communities forum.