If you have a recent model laptop with a fingerprint reader, you can setup Windows Hello to log in to Windows using your fingerprint.
To do this, you'll first need to set up a PIN to logon.
Here are the steps:
1. Go to Settings, Accounts, Sign-in options. If you have a supported device, you'll see the Windows Hello option. As you can see, you will need to first setup a PIN before the Setup button is activated.
2. To setup a PIN, you will need to login to Windows 10 with a Microsoft Account and add your PIN to your MSA profile. Enter your password in the field provided and then select Sign In.
3. Next, you need to set up a PIN and confirm it. Then select OK
4. Next, select Set up under Windows Hello
5. Select Get started.
6. Run your finger over the fingerprint scanner until the setup app reports completed. You can now optional add more/different fingers.
7. When you restart, you will be able to select Sign in Options and then sign in using your fingerprint.
Windows 10 is officially launching in just two days. There are lots of great improvements, but if you are a Home Entertainment enthusiast, there are things to consider before making the decision to upgrade. I'm very happy with Miracast for screen mirroring, but not so happy about the lack of great support for streaming to DLNA DMR devices which was present in 8.1 but has gone missing in 10.
Everyone needs to make their own decision on whether or not to upgrade, and if you are a Home Entertainment user and doing a lot of streaming, my observations may help you decide.
It's been announced everywhere that Windows Media Center is kaput/gone/dead. You CAN run your Windows 7/8.1 Media Center computers and you do not have to upgrade them. So if you want to keep WMC, just stay where you are. If you have the Get Windows 10 icon and were able to run the compatibility checker, you would have been informed of this (and you should get another warning if/when you run the Windows 10 upgrade):
If you are currently using DLNA "Play To", your choices in Modern/Universal Apps will be limited. In Windows 8.1, from the File System (classic Windows Explorer Interface) you could right click a file, then Play To – and any DLNA DMR devices would be available. In Windows 10, this is still present, but it's called Cast To Device. This isn't as nice an interface as the one provided by Modern Apps (in my opinion).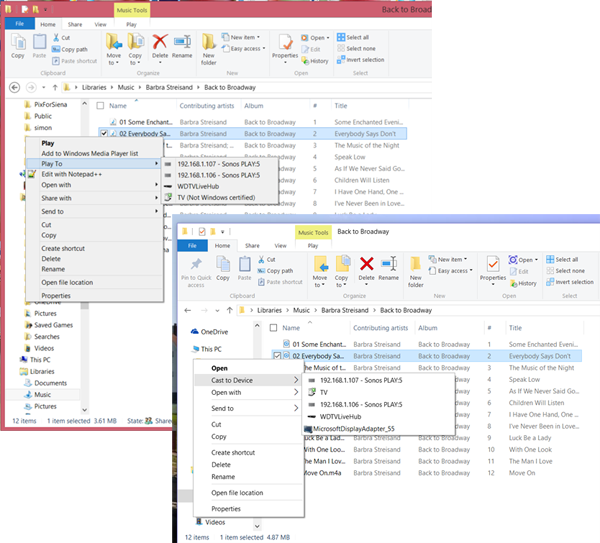 In Windows 8.1, Modern Apps could implement something called a "Play To" contract, which enabled you to stream to DLNA DMR devices. I use this constantly with my Surface Pro 3 and Music to send music streams to my Sonos Living Room Speaker. I can also send to me WDTV Live Hub which is connected to my receiver, etc.

The new Groove Music in Windows 10 doesn't have the ability to stream to DLNA devices. Yes, it can stream to my Bluetooth headphones or any other Bluetooth device like Bluetooth speakers, but I've been using DLNA, and now it's gone missing.
The Connect Tab in Windows 10 supports Miracast and Bluetooth audio. But if I want to stream to my Sonos or WDTV Live Hub, I'm out of luck.
Similarly, Windows Photos in Windows 8.1 allowed me to play slide shows to my TV or through my WDTV Live Hub:
Windows 10 has no such functionality in the Photos App. Only Miracast is supported through the Connect tab. There's no Cast To DLNA functionality.
The ONLY Microsoft App that I've found that currently has DLNA Cast To functionality is Movies and TV (and it is not that obvious that it is there)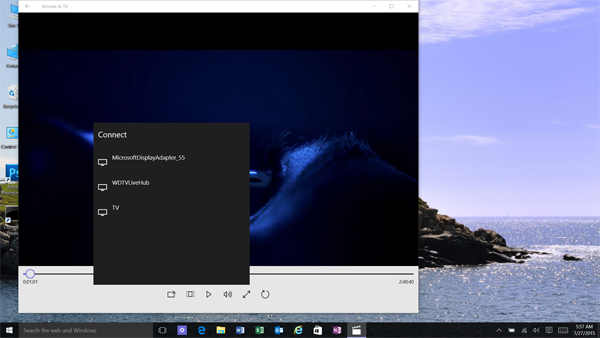 In Windows 8.1, there were multiple store apps that supported the Play To feature. MediaMonkey, VLC, etc. This functionality isn't present for these apps in Windows 10 and these apps have other issues under Windows 10. So as of now, I really don't have a way to stream Music to my DLNA devices OTHER than through Windows File Explorer. And that disturbs me.
Miracast – is it better in Windows 10? Microsoft has made some changes and more of this functionality is handled by the operating system. But many folks in the Windows Insider Forums are actually reporting that systems that worked properly with Miracast under 8.1 aren't doing so well with Windows 10. On some systems, this may be due to drivers. But it's worth noting that there are plenty of reports of "not working".
Intel WiDi – Older systems from the Vista era may have included Intel's proprietary Wireless Display technology. The upgrade disables this apparently and while Microsoft has said that customers can just reinstall the Intel WiDi app, reports from customers say otherwise, that it won't install.
Bottom line, take a good look at your multimedia streaming needs, watch the Microsoft Forums, and don't rush out to upgrade on day one.
Microsoft updated the Mail, Calendar and People App in the Windows Store on June 26. After that update, a number of people, including myself, found that the app would open but then "crash" immediately. It still would be running in the background, but would not display the default screen. I saw this on 4 Windows 8.1 computers. I checked the 2 computers running Windows 8.1 that had not yet been updated with the latest revision of the app and they worked fine. I upgraded to the new App release on one of these two computers, and as expected, the crashing behavior started.
After reading the initial complaints that started appearing in the Microsoft Forums http://answers.microsoft.com/en-us/windows/forum/windows8_1-winapps/windows-store-app-update-breaks-people-app/cd14abd2-1bc5-40d8-9e09-a51c66bfea2a I started digging into this. My hunch, reinforced by my logs and the log from another user, was that something in the social media integration function was  causing the issue.
I found that link to control which social media accounts were linked to my Microsoft ID: https://profile.live.com/cid-27a6342ef735cc0f/Services/?view=manage
It turns out that the Twitter integration was causing the issue for me. After removing the Twitter integration, the App functions as it should and displays properly.
And yes, the Facebook Connect piece is now deprecated, but that was not causing the crashes.
I'm not 100% convinced that Microsoft has escalated the issue to the team that owns the app.
Apple's HomeKit powered hubs and devices are very new and the platform is fragile, but definitely is a promise of things to come. Early adopters are struggling with device control and finding precious little documentation to assist them. I've had mostly good experiences, but I like over the bleeding edge technology and I like rolling up my sleeves to see what makes things tick or stop ticking. I want this platform to work. And I've been digging in.
Apple recently published a list of Siri HomeKit commands at https://support.apple.com/en-us/HT204893. When looking at their list (below), I found myself scratching my head. Look at the number of times the word LIGHTS appear in the sample commands. I have 8 lights controlled by HomeKit compatible accessories, but many of the commands that use the word LIGHTS just are not working. Commands like "Turn on the Living Room Lights" or "Turn on the Downstairs Lights" resulted in failure.
I did some thinking and realized that my downstairs lights are connected to Insteon On/Off switches and NOT to Dimmers. And I began to suspect that this made a difference, since On/Off switches could be connected to non lamp devices like Table Fans, etc.
As it turns out, my hunch was correct. Omitting the word "Lights" from the Siri commands made a huge difference. I have Rooms and Zones, and have been struggling for a few days to understand why Siri commands weren't working. I now have the answer. Here's a video that demo's what works and what doesn't work.
Let me know your experiences with HomeKit on Twitter @barbbowman
Watch the video on YouTube.