I'm not sure when this issue first started, but it is being reported with increasing frequency on Microsoft Communities. Note that while the following applies to the Surface Pro 3 running Windows 8.1, fully updated, it has been reported that the same issue occurs for those running the Windows 10 Technical Preview.
The issue:
A full HD connection via Miracast is expected but does not occur (to any Miracast display, not just the MS branded one) when Bluetooth peripherals are paired and connected. Only a 1366 x 768 connection is established. (This does NOT apply to the Surface Pro 3 Pen which has no impact on screen resolution.)
Below is my TV, ready to connect at full HD 1920 x 1080:
The problem:
The connection is made at 1366 x768. You can see below the VGA like desktop on the Surface itself which switches screen resolution to match what is negotiated on the TV. (Looks even worse on the TV, and with streaming video, this stinks).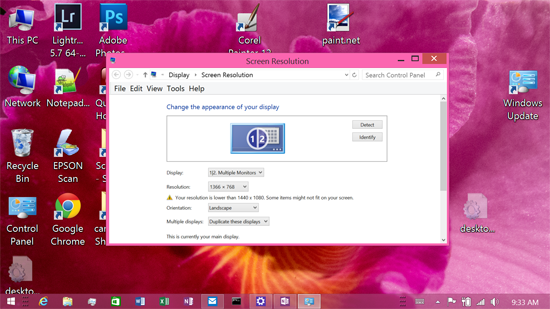 The reason this happens (bug):
If you already have an active connection with a Bluetooth device like the Microsoft Arc Touch Mouse Surface Edition, or other peripherals (I tested with my Parrot Zik BT headphones and repro'd this easily), some BT connected phones, etc. this BUG seems to force a 1366 x 768 connection.
Work around:
For some people (and I realize that folks using the Surface Pro 3 Dock may not find this useful)
1. Don't use Bluetooth peripherals OR
2. Don't CONNECT your Bluetooth peripheral to your SP3 until AFTER you have established the Miracast session.
Either way, you will be able to get 1920 x 1080 if your TV supports it.
I don't know what the experience is like for folks using the Surface Pro 2 or Surface Pro original, but I'd be interested to know if there are similar Miracast + Bluetooth issues there as well. Please tweet your experience to me on Twitter @barbbowman
On January 15, 2015, Microsoft released a package of drivers to Windows Update that includes an updated Marvell WiFi driver for the Surface Pro 3. If you are one of the folks that has been trying to resolve issues of connecting to 2.4GHz instead of 5 GHz on your dual band router, this new driver includes settings to fine tune your connectivity preferences.
First, verify that you have Driver Version 15.68.3073.151:
1. Type the words device manager on the Start Screen/search and then open device manager.
2. Expand Network adapters
3. Right Click or tap and hold the Marvell AVASTAR Wireless-AC Network Controller and select Properties
4. Open the Driver tab and verify the version
Specify the band:
By default, the Band is set to Auto in the Value field. Access the dropdown list and select 5GHz if you want to connect to only the 5GHz band. Note that the 5GHz band is the one that provides the 802.11ac speeds. You can also specify 2.4GHz only.
Important: If you change locations and have specified a setting other than Auto, you should change the setting back to Auto to insure connectivity "on the road". This is especially important when using public WiFi which normally uses the 2.4GHz band.
I was one of the early adopters of Jawbone's Up V1 fitness tracker. When it worked, it provided me with the feedback I needed to "get up and move" and get enough sleep, among other things. Key words here were "when it worked". The folks at Jawbone supported me (when I reached out to them on Twitter) and I went through 4 V1 bands, and finally applied for the no questions asked refund (which expired 12/31/2012)/. I got my money back and also was sent a V2. I "only" went through two V2's and (probably foolishly) purchased an UP24. When that UP24 showed signs of misbehaving that resets and firmware upgrades could not remediate, I cut my losses and went with a Fitbit Flex which offered most of the same functionality, plus a Windows app (which the Jawbone folks have yet to launch, assuming they even care about the Windows platform).
The Fitbit Flex met my needs, except I frequently ended up with a dead battery needing a recharge. Battery notifications from the app itself and a third party IFTTT app just didn't seem to work. On the plus side, where UP could not be worn in the shower, while washing dishes, and of course swimming, the Fitbit Flex was much more "water resistant". There are accessory bands for the fashion conscious and even some Tory Burch accessories to dress up the band. (I always thought the Jawbone UP was ugly, and considered the Fitbit Flex a fashion step up – pardon the pun.) When my Fitbit Flex stopped holding a charge and needed a reset before each recharge, I decided to see what else was out there.
The Microsoft Band had just been released. While it really is a computer for your wrist, the MS Band is an obvious piece that screams (unfashionable ugly) high tech that isn't something I'd wear out to dinner. And when I tried one on, uncomfortable to boot. Clearly the Microsoft Band was made for a male audience. It does lots of things other fitness trackers don't do, but I didn't want (another) device to be a slave to, I just wanted to track steps, activity, sleep, etc. Then there's the 48 hour battery life. I want to be free of wall chargers and remembering to plug a tracker in.
Enter the Misfit Shine.
I'd been following this product since the Indiegogo days off and on. What finally got me to pull the trigger on ordering one (besides reading all the reviews of the functionality) was the classically simple fashion conscious design AND the use of an old fashioned CR2032 four month battery.
Here's a visual fashion comparison:
| | |
| --- | --- |
| | |
| UP24 in basic black | Fitbit Flex |
| | |
| Microsoft Band | Misfit Shine |
In addition to the tracking functionality, the Misfit Shine also serves as a watch, and gets the time from the synced phone or device. Another big plus for me is that the Misfit Shine goes into sleep mode automatically which the other devices don't do. It comes with an alternative clip so that you can attach it to a T-Shirt, etc. You can remove the device from the band/clip and just keep in your pocket, too.
I'm using my Misfit Shine and syncing to my iPhone 6, but Misfit has apps for Windows Phone, Windows 8.1 and Android devices. Misfit recommends syncing with only one device, but I did play around with syncing to my Surface Pro 3
Comparing how well the Misift records my sleep patterns was interesting. After a particularly long day, I went to bed early and did some reading before dousing the lights. Fitbit (on the left below) recorded the time I went to bed because I had to tap to place it in sleep mode, but didn't do a stellar job of recording restless/awake, etc. Misfit, on the other hand, entered sleep mode automatically and recorded the 45 minutes or so of reading as part of a sleep cycle, but did a better job of reporting on sleep quality.
Here's the same sleep data displayed in the Windows 8.1 app:
The major areas I care about are displayed when I check the app on my iPhone. The app on the iPhone allows multiple views so you can see how you've done to meet your goals by day, week, etc.
You can set up trackers for running and swimming, too.
There is a Misfit channel on IFTTT and integration on the iPhone with the Apple Health App.
I started this post with some comments about fashion. Swarovski has partnered with Misfit and two versions of Swarovski Shine were shown at CES. The first version (available for pre-order now) uses a clear Swarovski crystal married to the Misfit Shine technology (with user replaceable CR2032 battery) and can be inserted in a variety of Swarovski bracelets or pendants. The second version uses a blue-ish crystal that channels light in a specific way to enable a solar/light powered version that does not use batteries. These are intriguing. I'll be looking at them closely. And if any Misfit/Swarovski folks are reading this, I'm a GREAT beta tester
Updated January 11, 2015
In general to mirror your display using Miracast, both the source and the display receiver should be Miracast certified. You can check devices at https://www.wi-fi.org/product-finder-results?capabilities=2&items=300 and also download a spreadsheet with all Miracast certifications. The first step in solving Miracast connectivity issues is verifying your devices are certified.
If your devices are certified, but Charms, Devices, Project does not offer "add a wireless display", check for software that might disable Miracast functionality by hooking into the network stack.
Software or Policies that may prevent Miracast from Working:
1. VPN software (note that Netgear ReadyCloud software also adds a hidden VPN device and may be installed by the Genie installer).
Some third party VPN solutions identify WiFi Direct (the underlying technology for Miracast) as a "Split Tunnel" and deem it a risk to security so they disable the functionality.
Windows 8.1 has built in support for some third party VPN solutions, but not all. Currently supported are Checkpoint VPN, F5 VPN, Juniper Networks Junos Pulse, Microsoft, and SonicWALL Mobile Connect. You will need to uninstall third party VPN clients (and restart) and then configure. If your VPN solution is not supported, you will probably need to completely uninstall it and reboot to use Miracast successfully.
To setup a native VPN connection:
First, access Windows 8.1 native VPN connections: from the Start screen type VPN and search
and then select Manage virtual private networks (VPN). You can then select one of the supported VPN solutions and complete the setup.
2. Some group policy settings or firewall settings if you are on a domain. This thread on TechNet may help you resolve this issue: https://social.technet.microsoft.com/Forums/en-US/8a1060b2-2e79-49b4-bcca-76c15a639513/miracast-broke-after-connecting-to-domain?forum=w8itprogeneral
3. Third party anti virus and/or firewalls – recommend completely uninstalling these, restarting, and then checking to see if you can add a wireless display.
4. Third party virtualization software like VirtualBox – either uninstall VirtualBox or uncheck the VirtualBox item in Wi-Fi Properties and reboot.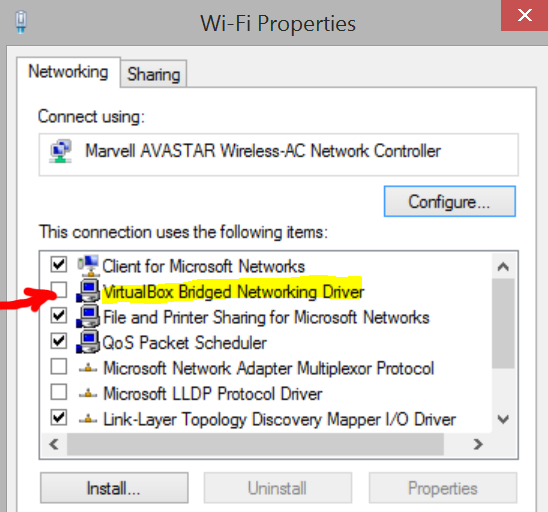 5. Netgear Genie installs a virtual adapter called NETGEAR Firewall Driver similar to the above VirtualBox Drive. Either uninstall the Netgear Genie software or uncheck the item in the properties box and reboot.
Stuttering
Bluestacks is known to cause audio and video stuttering on the Surface Pro 3. Uninstalling Bluestacks resolves the issue.
Microsoft branded Wireless Display Adapter fails to connect, everything else looks good.
If your Microsoft Wireless Display Adapter doesn't negotiate a connection with your computer or tablet, the following may help. This process may work for other branded Miracast dongles as well.
1. Go to Control Panel and open Device Manager and expand devices
2. Uninstall the Microsoft Miracast Display Adapter
3. Unplug  the wireless display adapter from the power source and the monitor and then re-connect Microsoft Wireless Display Adapter to monitor and power it up with USB power source or USB AC adapter from another device.
4. Reset the MWDA
•Press and hold the Reset button for 10 seconds.
•When the button is released, you will see the LED light blink on the adapter and a message on the TV that indicates it is resetting. Wait until it indicates "Ready to connect".
5. Restart your computer. Rediscover the MWDA – Slide in from the right side and selected Devices from Charms. Select project and then Add a Wireless Display. Connect to the Microsoft Wireless Display Adapter.