Microsoft customers with Surface Pro (original) and Surface Pro 2 have reported that the hardware button that controls the volume level on their tablet stops working after installing the latest Wacom Feel-It driver.
If you have a Surface Pro or Surface Pro 2 (not the Pro 3) and your volume button no longer works, and you've recently installed the 721.21 Wacom driver, this could be the cause of the problem. If you've upgraded over an older version of the Wacom driver, you can roll back the driver in device manager, reboot, and this should resolve the problem. If you didn't install a previous Wacom driver, head over to http://us.wacom.com/en/support/legacy-drivers/ and install the 720-10 driver.
Select Tablet PC and download the 7.2.0-10 driver, restart, and you should be good to go.
Miracast adapters like the Microsoft Wireless Display Adapter and the Netgear PTV3000, etc. negotiate a connection with the source device. To do this, they broadcast a message that basically announces that they are available for a connection. To do this, the adapter will use one of the three non-overlapping 2.4GHz 802.11 channels (1, 6 and 11) which in essence are the lowest common denominator and would be the most broadly available and used channels. (For this reason, if you are on a device that allows 5GHz only connections and suppresses 2.4 GHz, you cannot connect). Therefore, 2.4GHz is a requirement to negotiate a connection using Miracast.
1. If 2.4GHz is the only frequency supported by your router, then issues might occur due to saturated channels from nearby routers in your environment. You might try changing the channel on your router to see if conditions improve. To see all the Wireless channels nearby, open a cmd prompt and type:
netsh wlan show networks mode=BSSID [press Enter]
2. If you are connected to your router using a 5GHz channel, the Miracast frequency can be negotiated to use 5GHz (but remember, the negotiation initiates over 2.4 GHz).
3. If you are not connected to a WiFi network, the Miracast connection will always be negotiated on 2.4 GHz
A Miracast session creates a virtual, second network on a direct, peer to peer basis between your host computer/device and the target Miracast display/Miracast enabled TV/Miracast adapter. You can see this in the Network and Sharing Center in Windows 8.1 after a connection is successfully made:
I'm not sure when this issue first started, but it is being reported with increasing frequency on Microsoft Communities. Note that while the following applies to the Surface Pro 3 running Windows 8.1, fully updated, it has been reported that the same issue occurs for those running the Windows 10 Technical Preview.
The issue:
A full HD connection via Miracast is expected but does not occur (to any Miracast display, not just the MS branded one) when Bluetooth peripherals are paired and connected. Only a 1366 x 768 connection is established. (This does NOT apply to the Surface Pro 3 Pen which has no impact on screen resolution.)
Below is my TV, ready to connect at full HD 1920 x 1080:
The problem:
The connection is made at 1366 x768. You can see below the VGA like desktop on the Surface itself which switches screen resolution to match what is negotiated on the TV. (Looks even worse on the TV, and with streaming video, this stinks).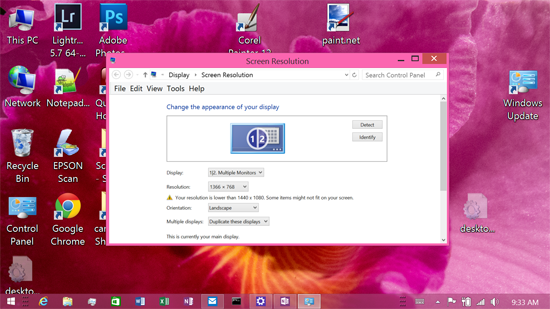 The reason this happens (bug):
If you already have an active connection with a Bluetooth device like the Microsoft Arc Touch Mouse Surface Edition, or other peripherals (I tested with my Parrot Zik BT headphones and repro'd this easily), some BT connected phones, etc. this BUG seems to force a 1366 x 768 connection.
Work around:
For some people (and I realize that folks using the Surface Pro 3 Dock may not find this useful)
1. Don't use Bluetooth peripherals OR
2. Don't CONNECT your Bluetooth peripheral to your SP3 until AFTER you have established the Miracast session.
Either way, you will be able to get 1920 x 1080 if your TV supports it.
I don't know what the experience is like for folks using the Surface Pro 2 or Surface Pro original, but I'd be interested to know if there are similar Miracast + Bluetooth issues there as well. Please tweet your experience to me on Twitter @barbbowman
On January 15, 2015, Microsoft released a package of drivers to Windows Update that includes an updated Marvell WiFi driver for the Surface Pro 3. If you are one of the folks that has been trying to resolve issues of connecting to 2.4GHz instead of 5 GHz on your dual band router, this new driver includes settings to fine tune your connectivity preferences.
First, verify that you have Driver Version 15.68.3073.151:
1. Type the words device manager on the Start Screen/search and then open device manager.
2. Expand Network adapters
3. Right Click or tap and hold the Marvell AVASTAR Wireless-AC Network Controller and select Properties
4. Open the Driver tab and verify the version
Specify the band:
By default, the Band is set to Auto in the Value field. Access the dropdown list and select 5GHz if you want to connect to only the 5GHz band. Note that the 5GHz band is the one that provides the 802.11ac speeds. You can also specify 2.4GHz only.
Important: If you change locations and have specified a setting other than Auto, you should change the setting back to Auto to insure connectivity "on the road". This is especially important when using public WiFi which normally uses the 2.4GHz band.