I recently posted my theories on why some Surface Pro 3 owners are reporting low speeds over wireless. Customers in Microsoft Community Forums have been reporting 72 Mbps wireless speeds and complaining.
I've worked with a few customers in the forum who were complaining about the 72 Mbps speed and have found for those folks with Apple Airport Extreme routers that specifying an explicit SSID name for the 5GHz channel and not leaving the default "same setting for both the 2.4 and 5 GHz radios" resolves this issue. Should this be necessary? Absolutely not. But for now, if you want to overcome this issue, you should make the change.
You'll need to access Wireless Options using the Airport Utility and specify a unique 5GHz channel name. While you're at it, you can optionally change the channel setting from Automatic to a specific channel
I've been advised that Apple hasn't released a Windows version of the Airport Utility that works with the latest 802.11ac Apple Airport devices, so you'll need to use a Mac or iOS device.
If this resolves your issue, please let me know in the forum thread or on Twitter @barbbowman.
One more of my "this is driving me crazy" issues on my Surface Pro 3 is now resolved. I haven't bought into Adobe Creative Cloud, even with the $10 a month special deal for photographers, mostly because I bought the stand alone LightRoom 4 and didn't see Photoshop CS6 as being worth $10 a month. I was, however, miserable trying to use the tiny menus and toolbar icons in Photoshop CS5. Until today.
I read alot of online sites and forums, and after this past weekend, was making my Monday rounds and came across http://forum.tabletpcreview.com/microsoft/63504-workaround-tiny-photoshop-ui-surface-pro-x-other-apps-other-hi-dpi-screen.html which lead to some reading https://onedrive.live.com/view.aspx?cid=4BE668230430EFDD&resid=4BE668230430EFDD%21947&app=Word, and http://tinyurl.com/m99e8xc and finally to https://onedrive.live.com/?cid=4BE668230430EFDD&id=4BE668230430EFDD%21935 and some pre-made files. I carefully examined the files and set a restore point on my SP3. I placed the external manifests in the proper folders and ran the registry file. Whoa!
You can click/tap the image below to enlarge it to full size 2160 x 1440 to see totally usable menus and toolbar icons.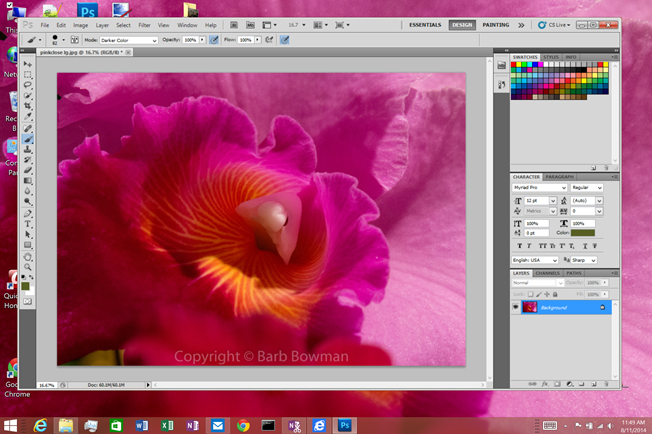 I'm one happy camper. My thanks to "Scrambler" for this one.
I've been reading about issues with WiFi connectivity in the Microsoft Community Forums (and trying to help folks with these problems), primarily in two long threads:
http://answers.microsoft.com/en-us/surface/forum/surfpro3-surfnetwork/surface-pro-3-limited-wifi-problem/bd17691d-f00d-491c-a65e-fcd77a304b3a
http://answers.microsoft.com/en-us/surface/forum/surfpro3-surfnetwork/surface-pro-3-wifi-and-network-connections-driver/69c3cd0f-daac-44be-bec6-643d2e53f98a
I have some theories, but am having trouble extracting answers to my questions in these threads because I'm asking afflicted users to make changes to their router configurations WHICH THEY SHOULD NOT HAVE TO DO UNDER NORMAL CIRCUMSTANCES. I've developed a couple of theories about some of the connectivity issues.
1. SLOW WIFI: Some routers (Apple has been doing this for years) ship with both the 2.4 and 5 GHz channels set to the same SSID (name). Other vendors have started doing this, some by default, others let you specify this optionally. It's marketed as an "Smart Connect" type config where the "best" channel is selected by the client/router automatically. I asked a couple of users in the forum about their config and learned that they were using the same SSID. I asked them to make a change and specify unique SSIDs and attach to 5GHz. They've reported their problem has disappeared.
Over the weekend, I experimented with my newest Netgear Router, the newly released R8000. This router has TWO 5GHz radios that support the newest 802.11AC speeds. Netgear optionally offers the "Smart" connect where you can enable the same SSID name.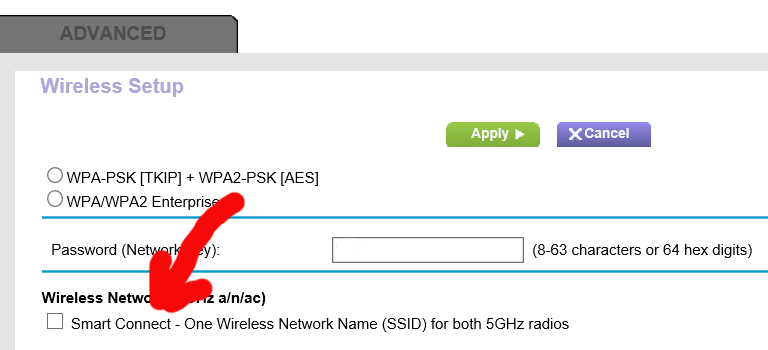 You have no control which radio you connect to when this is enabled.
If you enable this kind if smart connect on routers covering both the 2.4 and 5GHz bands on certain routers, apparently you will always connect to the 2.4GHz SSID if you are using a Surface Pro 3.
For folks with 2.4GHz 802.11n routers with no 5GHz, your speeds will be slower than if you had a dual band router. There's just no getting around this.
2. LIMITED CONNECTIVITY WHEN COMING OUT OF INSTANT GO 'SLEEP': Most routers ship with channels set to auto select so that the user doesn't have to figure out what channel has the least interference/usage. I've always changed this to specific channels here and have had no issues. My theory here is that while the SP3 is in InstantGo sleep mode, the channel has changed and the Marvell adapter can't find it. Similarly, if the initial connection is made, while using the SP3, if the channel changes, the same "can't find new channel" situation occurs. I've been asking people to make changes in their settings to test this. Again, I know this should not be necessary. But it would seem to be a great diagnostic.
One of the things that has bugged me in Windows 8.1 is that the shortcut I had on my main desktop to End RDP and return control to the console:
C:\Windows\System32\tscon.exe RDP-Tcp#1 /dest:console
stopped working because Window 8.1 increments the session every time you initiate a session. I've used this for years, going back multiple operating systems.
This was driving me crazy. Why? Because I'm lazy and if the session isn't returned to the console, in Windows 8.1, I have to deal with the lock screen and logging on locally. (This is at home, not in an office, where obviously I'd want the computer locked when not sitting at it).
I looked at Power Shell, and didn't want to deal with the complexity of determining the session ID and generating the right commands. What I came up with was an old fashioned batch file. You can construct this and increment to your heart's content. It looks like this:
C:\Windows\System32\tscon.exe RDP-Tcp#1 /dest:console
C:\Windows\System32\tscon.exe RDP-Tcp#2 /dest:console
C:\Windows\System32\tscon.exe RDP-Tcp#3 /dest:console
C:\Windows\System32\tscon.exe RDP-Tcp#4 /dest:console
C:\Windows\System32\tscon.exe RDP-Tcp#5 /dest:console
C:\Windows\System32\tscon.exe RDP-Tcp#6 /dest:console
C:\Windows\System32\tscon.exe RDP-Tcp#7 /dest:console
C:\Windows\System32\tscon.exe RDP-Tcp#8 /dest:console
C:\Windows\System32\tscon.exe RDP-Tcp#9 /dest:console
C:\Windows\System32\tscon.exe RDP-Tcp#10 /dest:console
You can keep incrementing to suit your needs. Mine goes up to 60 or so.
Next, place the batch file somewhere on your hard drive (NOT on the desktop itself).
Right click the batch file and select Send To, Desktop (create shortcut)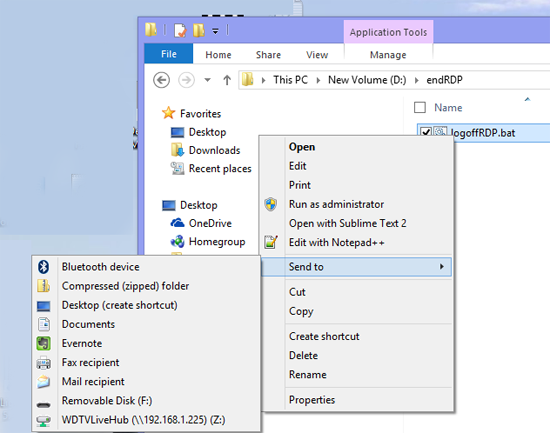 On your desktop, find the new shortcut and right click and select Properties
Select Advanced
Check Run as administrator and then OK
Next (optionally) change the icon to something you will recognize easily by selecting Change Icon.
I selected the icon that was attached to my old, no longer working shortcut
Click OK and you're done.
Now when you RDP in to your desktop, you can double click/tap the icon for the shortcut on your desktop which will run the batch file as administrator and disconnect the session and return control to the console.
Enjoy!