While it will never replace Windows Live Writer, and is geeky to setup, this plugin is a good tool if you are using a computer that doesn't have WLW installed. You can compose offline in OneNote and then use a OneNote button in the ONLINE WordPress editor to load up your post and tweak and publish.
The Plugin is available at https://wordpress.org/plugins/onenote-publisher/
Updated April 24, 2015
In general to mirror your display using Miracast, both the source and the display receiver should be Miracast certified. You can check devices at https://www.wi-fi.org/product-finder-results?capabilities=2&items=300 and also download a spreadsheet with all Miracast certifications. The first step in solving Miracast connectivity issues is verifying your devices are certified.
If your devices are certified, but Charms, Devices, Project does not offer "add a wireless display", check for software that might disable Miracast functionality by hooking into the network stack.
Software or Policies that may prevent Miracast from Working:
1. VPN software (note that Netgear ReadyCloud software also adds a hidden VPN device and may be installed by the Genie installer).
Some third party VPN solutions identify WiFi Direct (the underlying technology for Miracast) as a "Split Tunnel" and deem it a risk to security so they disable the functionality.
Windows 8.1 has built in support for some third party VPN solutions, but not all. Currently supported are Checkpoint VPN, F5 VPN, Juniper Networks Junos Pulse, Microsoft, and SonicWALL Mobile Connect. You will need to uninstall third party VPN clients (and restart) and then configure. If your VPN solution is not supported, you will probably need to completely uninstall it and reboot to use Miracast successfully.
To setup a native VPN connection:
First, access Windows 8.1 native VPN connections: from the Start screen type VPN and search
and then select Manage virtual private networks (VPN). You can then select one of the supported VPN solutions and complete the setup.
2. Some group policy settings or firewall settings if you are on a domain. This thread on TechNet may help you resolve this issue: https://social.technet.microsoft.com/Forums/en-US/8a1060b2-2e79-49b4-bcca-76c15a639513/miracast-broke-after-connecting-to-domain?forum=w8itprogeneral
3. Third party anti virus and/or firewalls – recommend completely uninstalling these, restarting, and then checking to see if you can add a wireless display. If you are using a third party firewall like ESET Endpoint, you may be able to create a firewall rule (see http://blogs.msmvps.com/wnewquay/2015/04/24/surface-pro-3-wireless-display-adaptermiracast/ for information on ESET Endpoint).
4. Third party virtualization software like VirtualBox – either uninstall VirtualBox or uncheck the VirtualBox item in Wi-Fi Properties and reboot.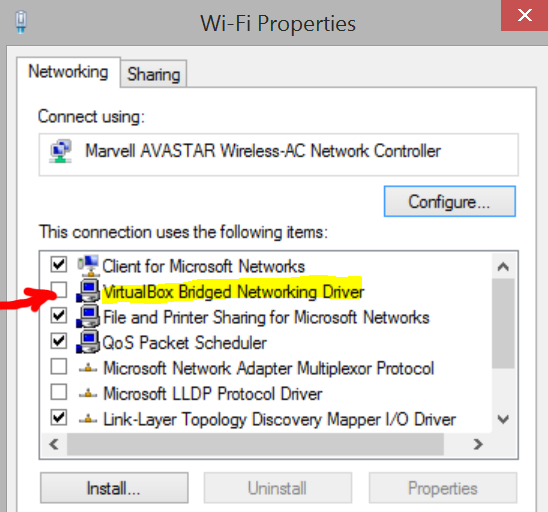 5. Netgear Genie installs a virtual adapter called NETGEAR Firewall Driver similar to the above VirtualBox Drive. Either uninstall the Netgear Genie software or uncheck the item in the properties box and reboot.
Stuttering
Bluestacks is known to cause audio and video stuttering on the Surface Pro 3. Uninstalling Bluestacks resolves the issue.
Microsoft branded Wireless Display Adapter fails to connect, everything else looks good.
If your Microsoft Wireless Display Adapter doesn't negotiate a connection with your computer or tablet, the following may help. This process may work for other branded Miracast dongles as well.
1. Go to Control Panel and open Device Manager and expand devices
2. Uninstall the Microsoft Miracast Display Adapter
3. Unplug  the wireless display adapter from the power source and the monitor and then re-connect Microsoft Wireless Display Adapter to monitor and power it up with USB power source or USB AC adapter from another device.
4. Reset the MWDA
•Press and hold the Reset button for 10 seconds.
•When the button is released, you will see the LED light blink on the adapter and a message on the TV that indicates it is resetting. Wait until it indicates "Ready to connect".
5. Restart your computer. Rediscover the MWDA – Slide in from the right side and selected Devices from Charms. Select project and then Add a Wireless Display. Connect to the Microsoft Wireless Display Adapter.
There's a long thread over in the Community forum: http://answers.microsoft.com/en-us/surface/forum/surfpro3-surfupdate/surface-3-wavy-diagonal-lines-when-inking/78c138e5-50db-4544-a988-6023a84b9675?page=11&tm=1428088290680#LastReply and it looks like (based on the answers we just got in the Reddit AMA held today by the Surface team, that there may be work that can be done. Timing unknown, and probably way off in the future.
Here's a trick if you are desperately trying to get your hands on a hotfix from Microsoft that requires you to contact support and are getting a run around. Do this at your own risk. Make sure you need the fix and have created a restore point if things go wrong. I won't support you and Microsoft won't support you.
You need to know the KB number of the hotfix you need. Find a hotfix (OK, I'll do it for you) for a different item where the download is available without going through contacting support again. Like http://support.microsoft.com/en-us/kb/2955769
Click the Hotfix Download Available button.
After selecting that link, an URL will appear in the address bar like https://support.microsoft.com/en-us/hotfix/kbhotfix?kbnum=2955769&kbln=en-us
Copy the URL in the address bar and paste into Notepad.
Replace the KB 2955769 number with the one you are having difficulty getting. So that you have a link like https://support.microsoft.com/en-us/hotfix/kbhotfix?kbnum=XXXXXXXX&kbln=en-us where XXXXXXXX is the KB number you are having trouble getting.
Now you can get your hotfix.
Again, I won't support you and Microsoft won't support you, but maybe you can fix your problem without multiple calls to support and incompetent poorly trained support agents.