Subtitle: A Signature PC should not behave this way or require this amount of manipulation. Not to mention that an average person would never be able to get through this.
A very old (in computer years) computer from the XP years that I'd been updating (hard drive, RAM, video card, network card, and of course Windows Operating System) (it was running 8.1 updated completely) finally gave up the ghost. It was an old clunker by today's standards, and I had been using it for development and testing work. I'd been expecting this and had been doing some research for a few weeks. I'd already decided on a 17 inch laptop as a desktop replacement and I was loathe to order something I couldn't test first or that came with bloatware, crapware, and things of that ilk. I've been to out almost local Microsoft Store enough times to know that the signature PC's there were probably my best choice. And decided on an HP Envy 17 that appeared to be "fully loaded".
The nice man that waited on me showed me a similar (less powerful) model that was on display. I decided that if testing that model proved acceptable, that the higher end model would be as good or better. On the negative side, the sales person was unsure of the specs of the higher end machine. I asked if it had a 5400 or 7200 speed hard drive (he had to look it up). I also asked if the higher end model had Windows 8.1 or Windows 8.1 Pro (the down level demo I was testing did not have Pro) and he replied affirmatively.
The demo seemed to be quite responsive, even on the store's not so wonderful wireless internet connection. I wasn't absolutely crazy about the gesture enabled trackpad and mouse functions, but knew I'd be purchasing/using a separate Arc Touch Mouse most of the time and that I could turn off and adjust trackpad functionality. Backlit keyboard was a plus. The keyboard itself is so-so but usable (I still think that no one has equaled the ThinkPad keyboards). After about twenty minutes I decided to pull the trigger and purchase.
The box came out from the back of the store. NOT Windows 8.1 Pro, only Core. I complained. I asked for a discount to offset the need to buy an upgrade key. The assistant store manager said yes to that in seconds (the store manager, who I know, was on vacation) and did some magic with prices to effectively reduce the cost by the amount needed to offset the Pro Pack Upgrade. Home I went, laptop in hand.
Arriving home, I plugged in and spent a couple of hours first applying the Pro with Media Center upgrade and then hitting Windows Update about 8 times until I was fully updated to 8.1, Update 1 (or whatever it is officially called).
I walked away to have lunch.
Problem #1: When I came back, the laptop was displaying an ominous black screen showing Boot Device Not Found Please install an Operating System. Held down the power button, did a few more things, started downloading my apps from the Windows Store. Went back to the desktop. Had two more instances of Boot Device Not Found Please install an Operating System. A web search for "hp envy operating system not found" turns up and ungodly number of hits. Most of which are folks who can't get their computers to boot at all. That was not my problem. After some thought, I went hunting for a BIOS upgrade. Which I found and applied.
Problem #2: Under heavy network load (over 802.1ac wireless), I had some complete lockups. I went hunting for a driver update on the HP site. Found one for this specific model and applied it.
Problem #3: After performing the Windows 8.1, Update 1 update, Bluetooth went missing. It was completely gone from Device Manager as well. While I couldn't find anything specific to the model laptop I had, I did find http://h30434.www3.hp.com/t5/Notebook-Operating-Systems-and-Software/Bluetooth-missing-HP-ENVY-15-j026tx-Windows-8-1/td-p/3753454. After some more searching, I figured out that I should try https://downloadcenter.intel.com/Detail_Desc.aspx?DwnldID=23761. Yes, that worked. Or at least I see Bluetooth in devman and have a functional BT task tray icon.
Problem #4: The HP Assistant Program  finds newer drivers that those listed for the product page for this model laptop. It found an even newer Intel Wireless drive for the AC NIC. Suggests that it is a waste of time to use drivers from the product page. HP should be ashamed. If you have drivers, HP folks, keep your site updated.
Problem #5: I installed all my modern apps from synced profile. I then got all the Windows Store Updates for these apps. Skype and Bing News won't install and error with 0x80073cf9. I can install other apps and update other apps. I uninstalled the "old" versions. Now I have none. I ran the PowerShell script to remove windows store apps and these two do NOT appear on the list. It's not corrupted files, I've sfc /scannow'd and tried the standard wsreset, license sync, and it appears I am not alone. I do have the desktop app and there are other News Apps, so it is not the end of the world.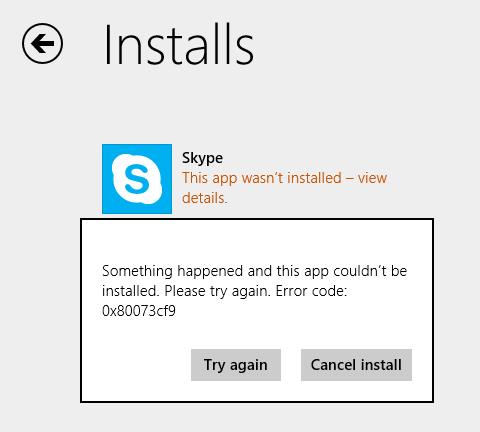 Problem #6: Locks up when accessing an SDXC card in the media reader slot. I've got an external card reader that works, but gee whiz…
Bottom line.
I've got a thirty day return window and have resolved most of my issues. I've spent the past day and a half installing my apps and so on. I want this to be a keeper. I'm hoping I'm over the hump. HP should be ashamed for sure. And I'm hoping that the Microsoft Store folks leaern something from this.