iCreation i700 cordless phone with Link to Cell
My Connected Home now includes an iCreation i700/i700e Cordless with Link to Cell System and I couldn't be happier!
When I realized my old Uniden 5.8GHz cordless phone system was slowly dying (and the proprietary, even generic replacement batteries for it were $16 each) I started investigating what was going on within the world of cordless phone systems. It became clear to me that what I really needed (or wanted) was a way to use my cell phone from all the extensions in my three-story townhouse style condo as well as my landline. Cordless telephone systems have evolved and changed greatly since I bought my Uniden system around 8 years ago. It was time to move to DECT.    
I did a lot of online research. The major players like Panasonic, Vtech, AT&T, etc. all seemed to have DECT systems that supported cell phones using some kind of link to cell. The nomenclature for this feature varies from vendor to vendor.
Reading through the various reviews on multiple websites and checking some of the forums I realize that some people were having issues linking their cell phones using the systems that were there. Since I have an iPhone, I specifically looked for reviews and forums that mentioned iPhone. What I really wanted to do was be able to link my iPhone to a new cordless system and be able to use the contacts already stored on my iPhone for an address book on the cordless system. Again I spent a lot of time looking and reading and finally decided on the iCreation i700 cordless DECT system. While there weren't many reviews at all about this phone, the few I found were extremely positive. One of the things that I found particularly reassuring was that this particular system carried the made for iPhone logo designation.
I also noticed was that the Sharper Image was selling this particular system (although at an obscenely higher price than anyone else). Usually, if Sharper Image carries a gadget, that gadget works as advertised (in my experience anyway). This is not an inexpensive system and it's probably 80% higher in cost than the newest top of the line cordless DECT systems with comparable features from folks like Panasonic etc. that support this link to cell phone technology. The i700 is also not in abundant supply throughout the United States. The official US distributor/vendor appears to be clearsounds.com but I found several companies selling the system at a much lower price and placed my order through Amazon. This is the first time that I purchased an electronic gadget without actually trying it out in the store or seeing it in a friend home.
The i700 proved to be nearly everything I wanted and expected. It does not have a built in answering system for landline phones, but that was not on my list of requirements, since my phone service through Comcast provides cloud based voice messages, etc. And if I decide to give up my landline (a definite possibility at some point) this is also not an issue. It supports up to 5 extension handsets. I had 6 with my old Uniden system, but it was probably overkill to have a phone in the bathroom.
The system supports pairing two different iPhones (well, I only have one and pairing it with the i700 was easy) and in addition to a local contacts/phone list that you can manually create, supports downloading contact from your iPhone via Bluetooth.
This worked exactly as advertised (and was incentive to clean up and delete/edit a ton of contacts that were gathering dust). These appear on all registered handsets. Registering additional handsets is a breeze. When you create a list of local contacts, it needs to be done on each handset, fortunately a task that only needs to be done once to get started (and adding anything new to each handset as time goes on). My old Uniden system had a feature to copy the phonebook to other registered handsets, which would have been easier, but this is one of the few negatives for me.
The handsets allow me to take or place calls from either my landline or my cellular line. There are logs for missed/answer calls, etc. and visual indicators when you miss a call or have a message waiting (landline) if your service supports this. I found the menus very intuitive and easy to navigate. The buttons are nice and large, and oh my, the call quality clarity is superb. I use the speakerphone quite a bit and the sound was crisp and clear. When you pick up the phone at night in a dark room, the lit buttons and display are incredibly readable.
Am I concerned about the new iPhone 5 connector and the old connector style charging dock in the base unit? Nope. I wrote the manufacturer who replied within a few hours that they are producing a cradle adapter (but that I would need to purchase the 30 pin to Lightning adapter from Apple) and that they would arrange for the US distributor to send me one next month. They even sent an image showing what it would look like. If you have ever written a Consumer Electronics manufacturer blindly without having a pre-existing contact person, you know that this is not normal behavior. I've had several emails back and forth. I like these guys and I like their product.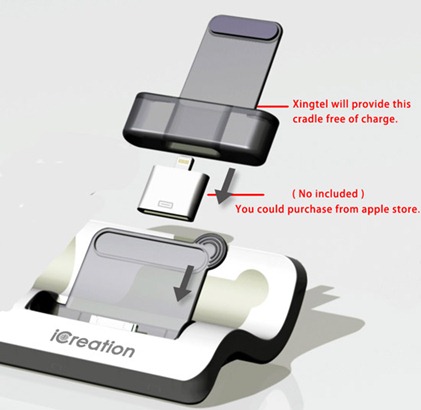 Am I concerned about having something OTHER than an iPhone down the road? Nope. I suspect that I would be able to pair any phone which support Bluetooth technology (but would not be able to download the phones contact list).
Anyway, I'm happy with my system, and that's what counts for me.