Technology
Mattel has angered a large segment of the Girl Geek world with a book with a decidedly sexist slant that portrays Barbie as needing help from boys to successfully complete a coding project. While Mattel has apologized and "pulled" the publication and has promised a better attitude going forward, the important concept that girls can be what they dream to be and should reach for the stars is what really matters. Women in tech have been successful for years. I'm not just talking about the Marissa Mayer's of this world. There are thousand's (and hopefully tens of thousands) of us who have built successful tech careers, many of them, like myself, going back 20 or 30 years.
There's been lots of activity on Barbie's Facebook page where posts are being deleted by Barbie's social media staff (see Posts to Page) and some still are up at https://www.facebook.com/BarbieNAD/posts/362944293876701
One of my peers has started a #realgirlgeek campaign to highlight the fact that women and girls CAN be anything they want to be, including computer programmers and IT professionals.
The White House also has recently stepped up a campaign to highlight and help and equalize the pay gap in ALL professions.
Let's encourage our girls to pursue and excel in technical careers.
Oh yeah, for what it's worth, here's my remix of the horrendous Barbie, I can be a Computer Engineer.
I love my Surface 2 and my Nokia Lumia 2520, but until today, they were not a good blogging platform. I've been holding my breath waiting for a Modern UI/Start screen App version of Windows Live Writer, but I fear that day will never come. I read about the Barley WordPress plugin with great excitement, but it didn't work with my self-designed theme here on digitalmediaphile.com. The folks at Barley were hugely supported and nice. I learned I needed to change my theme which apparently had some CSS issues. This morning I decided I wanted to change my theme from fixed to fluid and hoped that I'd end up with a more compatible theme that would support Barley. I emailed support who got back to me withint minutes and asked for a zipped copy of my new theme. Shortly after receiving this, I received a reply that it worked.
So, with my revised theme, Barley works exactly as advertised. It works on Modern IE, but you'll need a keyboard and mouse/trackpad as several functions are not touch enabled. Barley is an online editor that works inside WordPress (and let's you switch back and forth to the native WordPress editor if needed). Barley is completely WYSIWYG. You can see a demo of how the editor works on their website.
Screenshots below were made while I was preparing this post.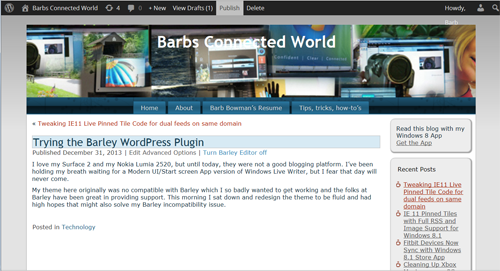 I'm typing this on a regular desktop. Next step is to try on my Surface 2.
I'm a very happy camper. More to follow!