Microsoft customers with Surface Pro (original) and Surface Pro 2 have reported that the hardware button that controls the volume level on their tablet stops working after installing the latest Wacom Feel-It driver.
If you have a Surface Pro or Surface Pro 2 (not the Pro 3) and your volume button no longer works, and you've recently installed the 721.21 Wacom driver, this could be the cause of the problem. If you've upgraded over an older version of the Wacom driver, you can roll back the driver in device manager, reboot, and this should resolve the problem. If you didn't install a previous Wacom driver, head over to http://us.wacom.com/en/support/legacy-drivers/ and install the 720-10 driver.
Select Tablet PC and download the 7.2.0-10 driver, restart, and you should be good to go.
I was reflecting this morning what a marvel of engineering the Surface Pro 3 is. I've never owned anything like it. Light, fast, powerful. Versatile and comfortable to hold. Expandable.
And then I got to thinking about the various "portables" I've owned, especially the early ones. I've always been a laptop person, although the definition of 'portable' has certainly changed over the years. And I started thinking about the hardware I've owned. And decided to post a short walk through those ancient devices I've owned over the years.
My first portable was a Tandy 1400FD, circa 1989
This was a beast that weighed about 14 lbs as I recall. Equipped with a whopping 768K of RAM, it had a switchable clock speed of 4.77/8.16 MHz and an 8026/7 Intel 8 MHz processor.
The MS DOS operating system and applications ran off dual 720K floppy drives. In addition to MS-DOS 3.20, it ran a text based under interface called Deskmate with built in applications for drawing and word processing. The screen was a backlit LCD that reminded me of an Etch-a-Sketch toy. Hard on the eyes, so I printed out everything on a dot matrix printer.
Just two years later, circa 1991, I purchased a 6.7 lb. slightly more powerful Tandy 2810 laptop (it even had a 20 meg hard drive). With 16 shades of grey, 1 meg of RAM, MS-DOS 5.0 and an 80C286 processor, I ran Windows 3.0 in "Standard" mode. This was the first computer I seriously traveled with as it had a 2400 bps modem and in addition to local hobbyist BBSing, I'd added Prodigy, Genie, and CompuServe to my lifestyle.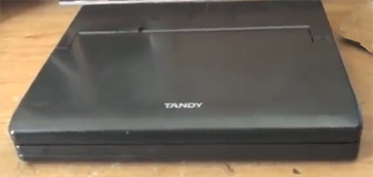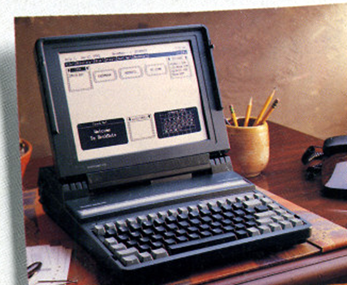 Just six months later, I sold the 2810 to an online friend and purchased an AST Premium Exec 386/25SX.
This technological wonder ran Windows 3.1 in Enhanced mode, and included 4 Megs of RAM and a 20 meg hard drive. Video was significantly improved at 256 shades of grey and with a 386 SX25 processor, it was the fastest machine I'd ever seen. This was the last portable I owned that required a separate, add-on mouse and I jumped on the ballpoint mouse (predecessor of the built in trackball) bandwagon.
1993-1995
I quickly graduated to my first color laptop, a passive matrix Compaq Contura 425c (a 486/25sx).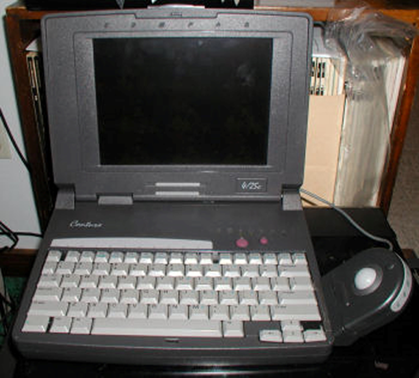 From there, I moved on to an Ambra (offered by IBM as a separate non-IBM/ThinkPad brand) 486/DX4 100. I couldn't believe how fast and colorful my mobile computing world was getting. Both included built-in trackball mouse support. Although each was initially purchased with Windows 3.1 or Windows 3.11, I upgraded to Windows 95. While neither originally came equipped with a CD ROM drive, I purchased one separately, a 2X pcmcia external drive. This was the bleeding edge. I thought I was all set for years to come.
1996-1997
Next came a store brand Pentium 120 laptop pre-installed with Windows 95. This machine died, the store (actually a small chain) had gone out of business, and I was about to enter what I considered to be the age of modern laptops.
1998-1999
I had always considered the IBM ThinkPad the ultimate portable machine (and a very expensive luxury) and one day while visiting a CompUSA store I caved, and bought a consumer 385XD Pentium II 266 MHz ThinkPad with 64 megs of RAM and a 4 GIG hard drive.
I loved the track point style mouse.  Later that year, I injured my back and suddenly needed a very light weight machine and purchased a ThinkPad 570 Pentium II 366 MHz machine, equipped with 128 megs RAM, a 5.1 GIG hard drive and it weighed under 4.5 lbs.
At the time, I thought it was the ultimate "thin and light" laptop. But it was really the clever "slice" dock that enabled IBM to slim down and lighten up the 570. And I was definitely hooked on ThinkPad's. Rock solid, and with the best keyboard to be found anywhere.
1999-2000
While beta testing Windows 2000, I treated myself to a ThinkPad 600X, a 500 MHz Pentium machine with 128 megs of RAM, 12 GIG hard drive and 4 megs video RAM (and my first DVD drive). I added a full docking station, full size monitor, and all the trimmings. This was a perfect Windows 2000 machine, and it was a good Windows XP Professional one as well.
2001
I bought an IBM ThinkPad T22. It boasted an Intel Speed Step processor, 384 megs of 100 MHz PC RAM, 8 megs of video RAM, a 20 gig hard drive and a 8x DVD. I added a long list of add-on peripherals, including 802.11b, firewire, and SCSI pcmcia cards, web cams, USB scanner, printer and a docking station. Again, I thought I was on top of the world, over the bleeding edge, set for years to come.
2003, 2005
Upgraded to new ThinkPad "T" models. These were incremental upgrades. Stronger, faster, better.
2007
In 2007. by some strange alignment of the planets, I hooked up with some folks at HP who sent me a TX1000 tablet to play around with.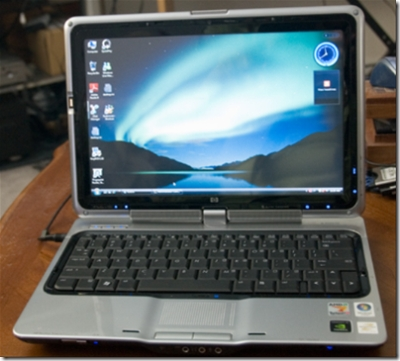 This had limited touch capabilities (by today's standards) and was a laptop convertible. You'd twist the thing around to a tablet like configuration. It was pretty awkward, but it was my first hands on experience with a tablet like laptop. The experience got incrementally better a little less than a year later.
2008
HP followed up the TX1000 with a TX2000 and sent one along for me to try out. It cane fitted out with:
Turion 64 X2 TL66 (2.3 GHz 512+512 L2 Cache)
4 GB DDR2 System Memory
Fingerprint Reader + Webcam + Microphone
Wireless a/b/g/n (draft) + Bluetooth
250 GB SATA 5400 RPM hard drive
LightScribe 8x DVD+/-RW Double Layer
Wireless Remote Control (for Windows Media Center and Quick Play)
6 cell & 8 cell Lithium-Ion batteries
Tablet Pen Digitizer and Cord
12.1" (1280 x800) WXGA Nvidia Go6150 powered graphics (shared memory)
2 sets earbuds
In 2011 I bought a MacBook Air (mostly to run Windows).  It was, at the time, the thinnest, lightest "ultrabook" available.Enough said.
2013
I was first in line at the nearest Microsoft Store to Purchase the original Surface Pro.
2014
Which brings us to today. I love my Surface Pro 3. It's been quite the journey. Can't wait to see what's next!
I've been reading about issues with WiFi connectivity in the Microsoft Community Forums (and trying to help folks with these problems), primarily in two long threads:
http://answers.microsoft.com/en-us/surface/forum/surfpro3-surfnetwork/surface-pro-3-limited-wifi-problem/bd17691d-f00d-491c-a65e-fcd77a304b3a
http://answers.microsoft.com/en-us/surface/forum/surfpro3-surfnetwork/surface-pro-3-wifi-and-network-connections-driver/69c3cd0f-daac-44be-bec6-643d2e53f98a
I have some theories, but am having trouble extracting answers to my questions in these threads because I'm asking afflicted users to make changes to their router configurations WHICH THEY SHOULD NOT HAVE TO DO UNDER NORMAL CIRCUMSTANCES. I've developed a couple of theories about some of the connectivity issues.
1. SLOW WIFI: Some routers (Apple has been doing this for years) ship with both the 2.4 and 5 GHz channels set to the same SSID (name). Other vendors have started doing this, some by default, others let you specify this optionally. It's marketed as an "Smart Connect" type config where the "best" channel is selected by the client/router automatically. I asked a couple of users in the forum about their config and learned that they were using the same SSID. I asked them to make a change and specify unique SSIDs and attach to 5GHz. They've reported their problem has disappeared.
Over the weekend, I experimented with my newest Netgear Router, the newly released R8000. This router has TWO 5GHz radios that support the newest 802.11AC speeds. Netgear optionally offers the "Smart" connect where you can enable the same SSID name.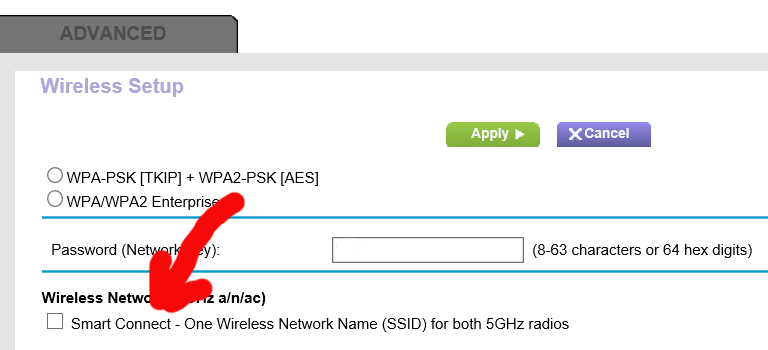 You have no control which radio you connect to when this is enabled.
If you enable this kind if smart connect on routers covering both the 2.4 and 5GHz bands on certain routers, apparently you will always connect to the 2.4GHz SSID if you are using a Surface Pro 3.
For folks with 2.4GHz 802.11n routers with no 5GHz, your speeds will be slower than if you had a dual band router. There's just no getting around this.
2. LIMITED CONNECTIVITY WHEN COMING OUT OF INSTANT GO 'SLEEP': Most routers ship with channels set to auto select so that the user doesn't have to figure out what channel has the least interference/usage. I've always changed this to specific channels here and have had no issues. My theory here is that while the SP3 is in InstantGo sleep mode, the channel has changed and the Marvell adapter can't find it. Similarly, if the initial connection is made, while using the SP3, if the channel changes, the same "can't find new channel" situation occurs. I've been asking people to make changes in their settings to test this. Again, I know this should not be necessary. But it would seem to be a great diagnostic.
I'm all about the Connected Home (as the title of this blog implies). My Living Room Home Theater system up until yesterday consisted of a circa 2010 Samsung 52 inch TV, an ancient Sony 5.1 Receiver, an Xbox 360 used solely as a Media Center Extender, a WDTV Live Hub which I used for DLNA Play To streaming, a Netgear PTV3000 for Miracast, an Apple TV for You tube, Hulu, Netflix, etc., a cable DVR and a first generation Samsung Blu Ray player. Separately, I have a pair of Sonos Play 5 speakers. A few days ago, the ancient Samsung Blue Ray player started groaning and screeching and it was the final incentive to replace it with something newer.
I did some Internet research and decided that the Samsung BD-F5900 would certainly improve my movie experience several fold. I downloaded the user manual and was even more impressed. While Samsung is likely to have a replacement model any day now, the $99 on sale price (at Best Buy no less) and the local availability drove me out in the 2 degree weather to purchase the device.
My intention was to replace an aging Blu Ray player, but what I got was a whole lot more.
No where on the box, the device itself, or in the user guide does the term DLNA appear. The BD-F5900 works perfectly as a Play To target. HD movies even play across the network smoothly. I can now move the WDTV Live Hub out of my Living Room (it is still a great NAS device).
The user guide mentions Samsung's proprietary All Share multiple times, and mentions Miracast once.
Miracast works perfectly. My Netgear PTV3000 can move upstairs to the bedroom TV or travel with me.
I can also use my iPhone with the PlugPlayer App as a small remote controller (the manual refers to similar functionality only working with s Samsung branded phone).
Last but not least, I had been using the Apple TV as a device to watch YouTube, etc. and not for Airplay of late (since the arrival on Miracast on Windows 8.1). I'd been watching some Amazon Prime Instant Movies on my Surface and using Miracast to display on the TV, (and didn't have any app direct on a device that accessed this). Amazon is one of the apps available (along with 100+ others including the other big names like Netflix, Hulu, etc.) on the BD-F5900. Streams at 1080p HD smoothly and looks great. I'll put the Apple TV away for now.
Bottom line, I've now got one device that replaces three and have removed some of the clutter in my living room.
In related news, there is rumor of a Microsoft Surface branded Miracast dongle via an FCC filing. Interesting development to say the least. It will be interesting to see what price point this launches with (if it launches). Stand alone Miracast adapters like Netgear's PTV3000 and Actiontec's Screen Beam are selling for $65-70. I guess I feel really good having purchased the Samsung BD player for $99 and getting everything but the kitchen sink included.