I've been reading about issues with WiFi connectivity in the Microsoft Community Forums (and trying to help folks with these problems), primarily in two long threads:
http://answers.microsoft.com/en-us/surface/forum/surfpro3-surfnetwork/surface-pro-3-limited-wifi-problem/bd17691d-f00d-491c-a65e-fcd77a304b3a
http://answers.microsoft.com/en-us/surface/forum/surfpro3-surfnetwork/surface-pro-3-wifi-and-network-connections-driver/69c3cd0f-daac-44be-bec6-643d2e53f98a
I have some theories, but am having trouble extracting answers to my questions in these threads because I'm asking afflicted users to make changes to their router configurations WHICH THEY SHOULD NOT HAVE TO DO UNDER NORMAL CIRCUMSTANCES. I've developed a couple of theories about some of the connectivity issues.
1. SLOW WIFI: Some routers (Apple has been doing this for years) ship with both the 2.4 and 5 GHz channels set to the same SSID (name). Other vendors have started doing this, some by default, others let you specify this optionally. It's marketed as an "Smart Connect" type config where the "best" channel is selected by the client/router automatically. I asked a couple of users in the forum about their config and learned that they were using the same SSID. I asked them to make a change and specify unique SSIDs and attach to 5GHz. They've reported their problem has disappeared.
Over the weekend, I experimented with my newest Netgear Router, the newly released R8000. This router has TWO 5GHz radios that support the newest 802.11AC speeds. Netgear optionally offers the "Smart" connect where you can enable the same SSID name.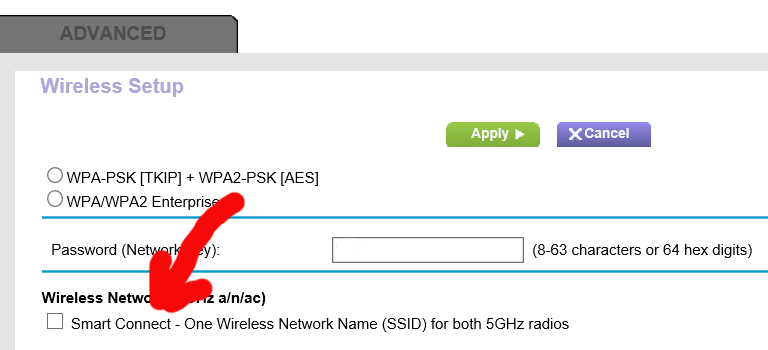 You have no control which radio you connect to when this is enabled.
If you enable this kind if smart connect on routers covering both the 2.4 and 5GHz bands on certain routers, apparently you will always connect to the 2.4GHz SSID if you are using a Surface Pro 3.
For folks with 2.4GHz 802.11n routers with no 5GHz, your speeds will be slower than if you had a dual band router. There's just no getting around this.
2. LIMITED CONNECTIVITY WHEN COMING OUT OF INSTANT GO 'SLEEP': Most routers ship with channels set to auto select so that the user doesn't have to figure out what channel has the least interference/usage. I've always changed this to specific channels here and have had no issues. My theory here is that while the SP3 is in InstantGo sleep mode, the channel has changed and the Marvell adapter can't find it. Similarly, if the initial connection is made, while using the SP3, if the channel changes, the same "can't find new channel" situation occurs. I've been asking people to make changes in their settings to test this. Again, I know this should not be necessary. But it would seem to be a great diagnostic.
I'm all about the Connected Home (as the title of this blog implies). My Living Room Home Theater system up until yesterday consisted of a circa 2010 Samsung 52 inch TV, an ancient Sony 5.1 Receiver, an Xbox 360 used solely as a Media Center Extender, a WDTV Live Hub which I used for DLNA Play To streaming, a Netgear PTV3000 for Miracast, an Apple TV for You tube, Hulu, Netflix, etc., a cable DVR and a first generation Samsung Blu Ray player. Separately, I have a pair of Sonos Play 5 speakers. A few days ago, the ancient Samsung Blue Ray player started groaning and screeching and it was the final incentive to replace it with something newer.
I did some Internet research and decided that the Samsung BD-F5900 would certainly improve my movie experience several fold. I downloaded the user manual and was even more impressed. While Samsung is likely to have a replacement model any day now, the $99 on sale price (at Best Buy no less) and the local availability drove me out in the 2 degree weather to purchase the device.
My intention was to replace an aging Blu Ray player, but what I got was a whole lot more.
No where on the box, the device itself, or in the user guide does the term DLNA appear. The BD-F5900 works perfectly as a Play To target. HD movies even play across the network smoothly. I can now move the WDTV Live Hub out of my Living Room (it is still a great NAS device).
The user guide mentions Samsung's proprietary All Share multiple times, and mentions Miracast once.
Miracast works perfectly. My Netgear PTV3000 can move upstairs to the bedroom TV or travel with me.
I can also use my iPhone with the PlugPlayer App as a small remote controller (the manual refers to similar functionality only working with s Samsung branded phone).
Last but not least, I had been using the Apple TV as a device to watch YouTube, etc. and not for Airplay of late (since the arrival on Miracast on Windows 8.1). I'd been watching some Amazon Prime Instant Movies on my Surface and using Miracast to display on the TV, (and didn't have any app direct on a device that accessed this). Amazon is one of the apps available (along with 100+ others including the other big names like Netflix, Hulu, etc.) on the BD-F5900. Streams at 1080p HD smoothly and looks great. I'll put the Apple TV away for now.
Bottom line, I've now got one device that replaces three and have removed some of the clutter in my living room.
In related news, there is rumor of a Microsoft Surface branded Miracast dongle via an FCC filing. Interesting development to say the least. It will be interesting to see what price point this launches with (if it launches). Stand alone Miracast adapters like Netgear's PTV3000 and Actiontec's Screen Beam are selling for $65-70. I guess I feel really good having purchased the Samsung BD player for $99 and getting everything but the kitchen sink included.
My last post on the Facebook issue resulted in a few people asking how to perform the work around without an ALT key on the touch keyboard as their touch/type cover was not available/broken, whatever.
There actually is a hidden full keyboard that you can elect to turn on.
1. Swipe to display the Charms, then Settings and select Change PC Settings
2. General, Touch Keyboard, make the Standard Keyboard available, and toggle to ON.
3. Once turned on, when you invoke the keyboard, an additional option will be available (second from right in screen shot below).
4. Whenever you want to use keys like ALT, etc. tap to turn on the Standard (full) keyboard. You will now be able to use the more complete Standard keyboard as shown below.
My last post detailed the process to add Microsoft non certified devices to the list of supported "Play To" devices in Windows 8 Modern UI Start Screen Apps so that they appeared in the Charms/Devices menu. Once again, if you experiment with this, you will need to verify that your device is a DMR (digital media renderer) that works from the classic desktop explorer/libraries interface by right clicking an asset and verifying Play To appears and that you can successfully send the media to the device).
I already knew my circa 2009 Samsung LN52B750 series TV was not the greatest Play To client (which is why I have been using the WDTV LIVE Hub) but I wanted to enable it to see what kind of results I would get. The LNB Samsung TV series is neither certified by the DLNA.org folks or by Microsoft (just as my Sonos speakers are not certified by either organization).
In DLNA years, 2009 is ancient, and in TV cycle years, prehistoric. Samsung stops issuing firmware updates after 9-12 months so there was really not much hope of improving the DLNA experience after that time. Aggravating, but true. So for most people, the iffy DLNA experience (due to codec and transcoding support) the Microsoft decision to not show these uncertified devices is justified. It would be a support nightmare. But, if you are a geek and accustomed to tinkering with the registry, etc., once again, enabling these devices let you experiment.
Again, this is for geek enthusiasts only and unsupported. Backup your registry and the subkey before you begin. Proceed at your own risk.
Note: I performed this exercise on my Surface Pro and Surface RT with success.
To add the TV to the whitelist, once again, from the Network window, I right clicked the media icon for the TV and accessed the properties.
Since the DeviceShims registry already listed Samsung Electronics,all I needed to do was add the subkey for Samsung DTV DMR and the 32 bit dword IsLegacyDMR and set the hex value to 1. I did have to take ownership of the Samsung Electronics key and give local users full control in order to perform this modification.
Next step was to reboot.
Concurrent with my experimentation with non MSFT certified DLNA DMR's, I also was looking to be able to play MKV files and had downloaded the trial of Cyberlink's Power DVD Mobile from the Windows 8 App Store. (I'll have more to say about this app soon, but I had a WOW experience; it's one awesome program).
I opened  my Avatar MKV and it played beautifully on the Surface Pro. Now the moment of truth, could I send to my Samsung TV through the Devices menu. You can see in the screen capture below that both my TV and WDTVLiveHub are available from the Devices charm.
The answer is a big YES. My Surface Pro displayed the following:
And the output to the TV worked perfectly.
The picture looked great and there was no lagging/glitching (and sound was in sync – I run audio from the TV out to a home theater system via Digital Optical SPDIF). I won't say it was a good as watching the original Blue Ray, but close. This same TV has had trouble with mp4's using Play To where it doesn't correctly handle the aspect ratio at times. And when I set still digital images via the Device charm, they displayed beautifully.