Surface
As a Community Moderator on the Microsoft Surface Forums, it's pretty easy for me to pick up trending hot issues (unlike the paid Forum staff who do not triage or correlate). I regularly forward these on to a contact inside Microsoft. At the end of June, I saw an increasing number of reports about a sudden and dramatic decrease in Surface Pro 3 battery capacity. I've been forwarding these along every since, asking that Microsoft at minimum state that "we are investigating reports", but no official MS rep has even posted that they are reading and investigating.
Sadly, once out of warranty, it costs $99 to even contact official support. And the scripted answer is "we will replace your device with a refurb for $450" (etc.). Many folks have gone this route.
I've been scraping the forum and doing my own analysis. The folks who know how to run a battery report (admin cmd prompt, then powercfg /batteryreport) have been posting screen shots or cut and paste text outputs. Based on the sampling, I see only SIMPLO batteries and no LGC batteries. This is disturbing.
I've been begging MS to respond to afflicted users. The silence is deafening.
Below is a sampling of what I am scraping from the Forum. If you have a Surface Pro3 and are seeing diminished capacity, PLEASE post in http://answers.microsoft.com/en-us/surface/forum/surfpro3-surfhardware/surface-pro-3-battery-degradation/783f6a00-19ba-4dcf-a828-0ad87751e15a. Please include a screenshot/capture of the capacity history and the manufacturer of the battery.
You read the title correctly. I've added a fingerprint reader to my Surface 3. (And you can do this with any Windows 10 device that has a USB port). Windows Hello is a wonderful feature that provides an extra level of protection from prying eyes while traveling. While I'm not necessarily paranoid, I don't want strangers seeing my password or PIN while I'm lunching and computing. I feel more secure.
While you can purchase a typecover for the Surface Pro 4 (that also works with Surface Pro 3, but this combo has some power management issues), there is no similar option to purchase a typecover with a fingerprint reader for a Surface 3.
Luckily, there's a way to do this (if you don't mind using the single USB port on the Surface 3 and tying it up at least while you log in; you can remove and attach this peripheral while Windows is running so for me it is no big deal).
Amazon sells this super tiny add-on fingerprint reader from "Eikon" at a good price. It's made by Authentech, who made many of the built in fingerprint readers for nearly all the big computer vendors (they were purchased by Apple in 2012).
I attached this device to my Surface 3 (green arrow below) and Windows immediately recognized this device and installed what it needed (red arrow) in a few seconds.
I'm currently using Windows 10 Insider Build 14388, but this device will also set up in a similar manner on Windows 10 10586.xxx.
1. Go to Sign in options in Settings.
2. If you don't already have a PIN, set one up as this is required to use a fingerprint reader.
3. Windows Hello will change the Require sign-in to Every Time as part of the setup and you will see this when setup is completed.
4. Next, you will need to "enroll" or setup at least one fingerprint; select Get started to launch the wizard.
5. Confirm your PIN when prompted.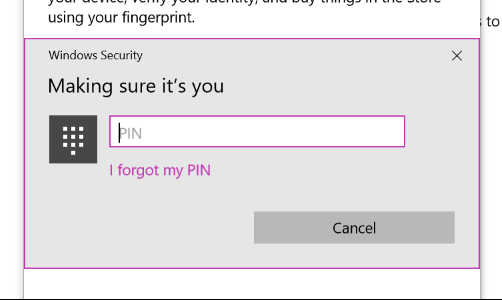 6. Follow the prompts to swipe a finger and setup the first fingerprint (and add additional fingers if you wish to do so).
When complete, you'll be able to log in using Windows Hello.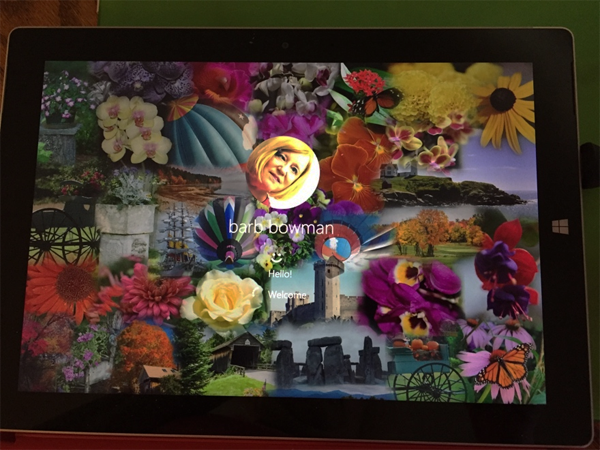 This is a neat little device and it installs and sets up seamlessly and flawlessly. I recommend it highly.
If you have any questions on this, you can contact me on Twitter @barbbowman or in the Microsoft Surface and Windows/Windows Insider Forums.