NASA
I've been watching one of the best shows on TV and following a "second screen" on Twitter, where @nasagoddard and @nasagoddardpix have been live tweeting NASA images during Cosmos: A Space-Time Odyssey (Sundays 9:00 pm EDT/PST on Fox and Nat Geo Channel on Mondays at 10:00 pm). The show is spectacular. The images are jaw dropping magnificent.
I'm fascinated and captivated and decided to put the tweeted images together in a Windows 8.1 app where I could enjoy the images and the descriptions that NASA Goddard provides on Flickr. The result was NASA Cosmos Gallery, now available in the Windows Store. (http://apps.microsoft.com/windows/en-us/app/nasa-cosmos-gallery/a97e5e15-7294-412b-a9f4-fb776b0cc234)
The main screen is a scrollable gallery with a large thumbnail and description. Scroll with touch or your mouse and it will snap into place and display the next item.
Tap or click the large thumbnail to view the large, expanded image:
Please download and see these amazing images! Let me know on Twitter @barbbowman if you like the app or rate it in the Windows Store.
I've been on an app spree, in case no one noticed. I've been using Microsoft Project Siena to build apps of late (in case my readers haven't noticed) and my latest creation, NASA Multimedia News is now available in the Windows Store. Seven sources/feeds are available, including three video podcasts. Information is updated as NASA updates their content.
From the Main menu, you can select a feed:
Here's one of the Video Cast galleries, which all work in the same manner. They are scrollable with touch or mouse. Tap the video window and select Play or hover with your mouse and select Play. Tap again to pause and then scroll to the next item in the Gallery.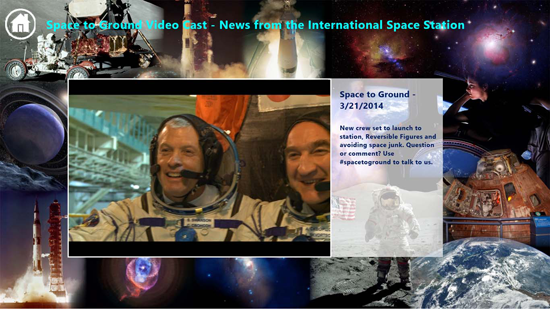 Here's one of the News Galleries, scroll horizontally to view older entries.
NASA Image of the Day Gallery: