Sharon has sent a picture and a quick comment with more to follow.
"It's way too good for the likes of me! What a beast. I'm used to Hondas not Lagondas. I really love this computer.. I`ve NEVER owned anything this nice and I`ve only begun to discover its potential.. "
Sharon Crawford from Bellingham WA, congratulations. I know you will enjoy the HDX Dragon.
The correct answers are:
http://digitalmediaphile.wordpress.com/2008/01/01/is-this-your-lucky-day/ (or for those of you that entered from my older blog where the contest was mirrored, this URL was also correct.
Intel(R) Core(TM)2 Extreme Processor X9000 (2.80GHz, 6MB L2 Cache, 800MHz FSB)
TX1000 (or TX1001xx, or several variants of that number for the notebook used in that series of reviews)
Acer Ferrari 4000
Nikon D300
After removing/deleting entries above that didn't meet the qualifications, I sorted the correct entries oldest (first in) to oldest and exported to Excel. Then I visited www.random.org and put everyone's fate in their hands. Click the image below for a full-size screen shot.
Contest Stats:
The bad news:
403 entrants did not follow directions and were eliminated from the contest. Issues with these entries included not using the correct subject line, "I want a HDX Dragon" or "I want an HDX Dragon" (a vs an being a grammar issue). And some folks that didn't do the treasure hunt but simply sent their contact info or told me a sob story. And a few that included images and graphics where I specifically stated "no images or stationery". Additionally, I was very clear, one entry per email address. You could enter from multiple email addresses, but not from the same one more than once. Sorry if you were in this category of disqualified entries.
The good news:
937 correct entries
Other contests are still running. Click here for a list!.
My contest is now closed. I'm reviewing entries and removing those that don't qualify and will select a winner through www.random.org. (I've been reviewing daily so it won't take forever.) Stay tuned to see who the lucky person is. Other contests are posted here, so you still may have a chance to win this magnificent computer even if your number doesn't come up here.
HP HDX Dragon – $4,500+ retail value (see full specs below)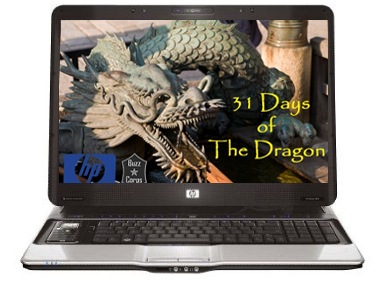 The Contest Rules
It's a treasure hunt!
The rules and details:
1. Email subject must be "I want an HDX Dragon" and you must send the email to a special email address I set up. (Link removed since contest has ended). Blog comments don't count and I have turned them off for this post to avoid confusion.
2. Five items must be included in the body of the email. These answers are all on my blog. Do not use images or stationery.
-1- Somewhere on this site is a hidden blog post with an image of the HDX Dragon HP Pavilion Entertainment PC. Find the hidden post and click on the title, then copy the full URL to the clipboard. You must paste the full URL for the hidden post into the body of the message as the first line.
-2- On a separate line, type in the specs of the specific Intel processor that my contest machine includes.
-3- On a separate line, type in the model number of the first HP Pavilion Entertainment PC I blogged about.
-4- Unlike HP who has a slick and easy 64 bit native program to update system BIOS, what computer manufacturer and laptop was a real problem to update under Vista x64 until I found a workaround? Type this info on a 4th line.
-5- What brand and model DSLR camera have I been using and take on a recent trip to Seattle?
3. One entry per email address. Please don't attempt to enter multiple times to increase your chances of winning. Entries will be sorted by FROM return email address and multiple entries will be disqualified. No throw away email addresses like mailinator, etc.
4. You must enter by 6pm Eastern Daylight Savings Time US on May 12, 2008. Emails received after that will not be eligible.
5. A random drawing will be held on May 13. If you did not provide the correct answers to all 5 items, you can not be the winner!
6. I will send an email on May 13 to the winner who will have 24 hours to respond with their full legal name, shipping address (no post office boxes) and phone number for shipping. If no response is received, a second random drawing will be held with the same conditions. I will announce the winner here (no address or phone will be posted). Note that Buzz Corps will make a payment directly to the winner to offset their tax burden.
7. This machine is for your personal use and while what you do with it is up to you, I ask that it not to be sold on eBay or other channel. If you enter, please do so because you are excited about the HDX Dragon and want it for yourself/your family.
8. After the winner receives the dragon and has had a chance to enjoy it, I'd love to do a follow-up story with the winner's comments.
That's it! Remember, 30 other sites have contests, so enter them all!
HDX System Specs
Operating system
Genuine Windows Vista Ultimate (64-bit)

Processor
Intel(R) Core(TM)2 Extreme Processor X9000 (2.80GHz, 6MB L2 Cache, 800MHz FSB)

Display
20.1″ diagonal WUXGA High-Definition HP Ultra Brightview Widescreen (1920×1200)-"True HD" 1080p res

Memory
4GB DDR2 System Memory (2 Dimm)

Graphics Card
512MB NVIDIA GeForce 8800M GTS

Personalization
HP Imprint Finish (Dragon) + Fingerprint Reader + Webcam + Microphone

Networking
Intel(R) PRO/Wireless 4965AGN Network Connection and Bluetooth(TM)

Hard Drive
500GB 5400RPM SATA Dual Hard Drive (250GB x 2)

Primary CD/DVD Drive
Blu-Ray ROM with SuperMulti DVD+/-R/RW Double Layer

TV & Entertainment Experience
Integrated HP HDTV Hybrid TV Tuner and 4 Altec Lansing speakers +the HP Triple Bass Reflex subwoofer

Primary Battery
9 Cell Lithium Ion Battery
Weight
15.3+ lbs

Software
Microsoft Office 2007 Ultimate Edition
Corel PaintShop Pro X2 – $73.99 retail value (eval copy)
Corel Painter Essentials – $79.99 retail value (eval copy)
Corel Ulead Video Studio Plus 11.5- $79.95 retail value (eval copy)
Games
Viva Piñata – $37.99 retail value (eval copy)
Microsoft Flight Sim – $44.99 retail value (eval copy)
Microsoft Flight Sim Expansion Pack – $34.99 retail value (eval copy)
Gears of War – $49.99 retail value (eval copy)
Movies
Pirates of the Caribbean – The Curse of the Black Pearl – Blu Ray – $22.95 retail value (eval copy)
Pirates of the Caribbean – Dead Man's Chest- Blu Ray – $22.95 retail value (eval copy)
Pirates of the Caribbean – At World's End – Blue Ray – $22.95 retail value (eval copy)