Digital Photography
If someone knows where I can buy the Apple iPad Camera Connector, PLEASE let me know. I just grabbed another brass ring off the iPad carousel.
Eye-Fi on its own is cool enough. Send digital photos from your camera to your desktop via 802.11n (2.4 GHz only)  for editing, to various online photo sharing sites, Facebook, and so on. It sure beats connecting cables or removing cards from a camera.
I thought that the advertised free iPhone app for Eye-Fi (available in the App Store of course) might be useful on my iPad since its function is to send photos from the iPhone via 3G to your desktop or a supported online photo sharing site (Facebook, Flickr, MobileMe, Picasa, Smugmug). And I was right.
Surprisingly, there was virtually no setup to speak up. You authenticate by entering the credentials for your Eye Fi account and the little app "just works". Once I logged in, the computer showed an additional tab on the left labelled iPhone (which I promptly changed to iPad). A settings window popped right up (and it can be accessed at any time) that let me specify a folder hierarchy and type and some other options.
Back on the iPad, since there is no camera and because I don't yet have my hands on the camera connector for iPad, I was able to upload photos stored on the device. I used this feature to take the screen captures I made of the Eye Fi functionality on the iPad and send them to my desktop for editing and inclusion in this post.
Well, I can't take a photo with the iPad as I said, but I sure can choose an existing photo and upload it. I just selected my Saved Pictures folder on the iPad and selected three images. The two above and one showing all the saved screen shots (appears below as iPhone005.JPG inside the Windows Explorer image).
I could tell the image uploads were completed via both a tool tip in the system and the Eye-Fi center window below.
Here's the Windows Explorer view.
Yup, this is way cool. I really want to get my hands on that iPad Camera Connector. I'm relishing the thought of all my pictures being uploaded and ready for editing on the home computer when I walk in the front door at the end of a day of photo shooting.
I feel like I just hit the jackpot.
I've been bemoaning the lack of support for Nikon NEF 64 bit support for as long as I can remember inside Windows Explorer. And I've been wishing for RAW support for NEF inside Media Center forever.
I'm happy to say that there is a really nice solution.
The free image codec pack at http://www.fastpictureviewer.com/codecs/ had all the answers and gave me the brass ring.
Here's a snippet from their web site on what is supported:
Raw Image Formats

Extension(s)
Name
Autorotate
Metadata
Remarks
*.dng
Adobe Digital Negative
Y
Y
 
*.cr2, *.crw
Canon Raw Image
Y
Y
 
*.raf
Fuji Raw Image
Y
Y
 
*.3pr, *.fff
Hasselblad Raw Image
Y
Y
 
*.dcr, *.kdc
Kodak Raw Image
Y
Y
 
*.raw, *.rwl
Leica Raw Image
Y
Y
 
*.mrw
Minolta Raw Image
Y
Y
 
*.nef, *.nrw
Nikon Raw Image
Y
Y
Can be configured to skip raw conversion and always use embedded previews.
*.orf
Olympus Raw Image
Y
Y
 
*.rw2
Panasonic Raw Image
Y
Y
 
*.pef
Pentax Raw Image
Y
Y
 
*.arw, *.sr2, *.srf
Sony Raw Image
Y
Y
 

Additional Features

Extension(s)
Name
Remarks
All formats
WIC Thumbnail provider for XP
Provides support for thumbnail views in Windows XP Explorer (SP3), for all the above formats and all existing WIC-enabled codecs.
All formats
WIC Import Plug-In for Photoshop
Enables Adobe Photoshop to directly import images from any installed WIC codec. The plug-in is available as a separate download in 32-bit only at this time (so it won't work on Photoshop CS4 64-bit edition for the time being).
I shoot Nikon RAW NEF.  And I have full support now inside Windows 7 RTM. Explorer thumbnails, even inside Windows Media Center. Here's the proof. Worth 3,000 words and a whole lot more.
Thumbnails inside Windows Explorer of my NEF files in Windows 7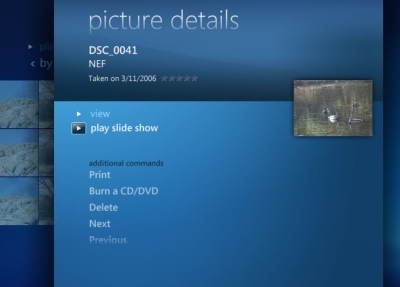 Picture Details inside Windows Media Center/Windows 7
A folder filled with NEFs is now viewable inside Windows Media Center
Yes, XP, Windows Vista, Windows 7 all can play with this. I'm excited, are you?
http://www.fastpictureviewer.com/codecs/ 
Clubhouse Tags: clubhouse, media center, Media Center Windows 7, windows media center, how-to, Tip