Microsoft and Pharos seemingly don't want to support 64 bit Windows computing on XP x64 or Vista Betas x64 with 64 bit GPS drivers. Here's how I got everything working on both platforms and with Mappoint 2005 and MS Streets and Tips 2006.
1. Download the Prolific driver from http://www.prolific.com.tw/support/files//IO%20Cable/PL-2303/Drivers%20-%20Generic/Windows/wd_pl2303h-hx-x_64-bit_v2018.zip and expand/extract to a folder on your hard drive
2. Edit both inf files and change all instances of the ID to USB\VID_067B&PID_AAA0
3. Plug in the GPS 360 and use the browse option to point to the folder where the files including the edited versions reside. Accept the unsigned driver if it displays.
4. Open Mappoint/Streets and set the comport (most likely the highest one displayed).
5. Enjoy 64 bit support!
Currently trying the Media Center Extender functions on my Xbox 360.

Connected via a D-Link DGL-3420 gaming adapter.

Running wide screen 1080i and Dolby Digital 5.1
Diversified Multimedia LLC let me preview an incredibly elegant solution to easily and quickly get your non content restricted Recorded TV from MCE 2005 to an Apple Video IPOD. Quickly. I will repeat Quickly. No audio/video sync problems. Absolutely seamless. I've been using it for about two weeks and it's been working flawlessly.
It's available for purchase now and a 14 day trial download is also available.
For me, the best news is that you can transcode your content without having iTunes and/or Quicktime installed on your Media Center computer. I converted 19 Battlestar Galactica one hour shows in less than 9 hours. That's the fastest transcoding I've ever seen.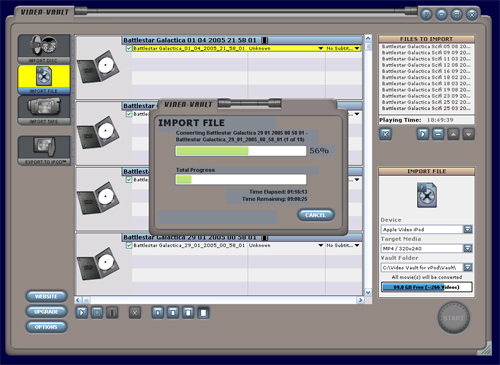 Look for an Expert Zone column in the near future that goes into more details.
Anti-Malware Engineering Team : Sony DRM Rootkit
"..We have analyzed this software, and have determined that in order to help protect our customers we will add a detection and removal signature for the rootkit component of the XCP software to the Windows AntiSpyware beta, which is currently used by millions of users. This signature will be available to current beta users through the normal Windows AntiSpyware beta signature update process, which has been providing weekly signature updates for almost a year now. Detection and removal of this rootkit component will also appear in Windows Defender when its first public beta is available. We also plan to include this signature in the December monthly update to the Malicious Software Removal Tool. It will also be included in the signature set for the online scanner on Windows Live Safety Center.."
Thank you, Microsoft. The sooner, the better.