Microsoft
If you're a hard core Windows Insider, you'll want to be one of the first to know when new Insider Builds are available for download and corresponding blog posts go up. You can always watch @donasarkars Twitter stream (and check the hints that builds are coming in images she posts), but if you have Hue or LIFX connected bulbs, you can use IFTTT to set up an Applet (used to be called a recipe) to get a visual alert.
Dona has graciously agreed to include a new hashtag #flight when she tweets notifications about builds.
It is really easy to set up the IFTTT piece, and you will need to enable the Hue/LIFX integration by signing into your account if you haven't already connected it to IFTTT.
The IF trigger action is Twitter, New Tweet from Search. Just paste from:donasarkar #flight into the field provided. For the THAT action response, select the Hue or the LIFX service and then determine what you want your lights to do (lots of options here).
If you want to be alerted every time Dona users the hashtag #windowsinsiders, you can create an Applet that uses a trigger action from:donasarkar #windowsinsiders.
Enjoy! Let me know on Twitter @barbbowman if these work for you.
While Microsoft's response to the SIMPLO issue has been restricted to "working on a possible software fix", customers are starting to report that even when plugged in, their SP3 tablets shut down. In essence, they can't use their Surface Pro 3's at all. This seems to happen when the amount of usable battery fully charged falls below a certain point, and as the days continue without a fix, more and more customers will have unusable devices. I don't see that they will be able to keep their devices running long enough to even apply a software fix, should one actually become available. These customers are trapped. Microsoft won't swap them out, and some are paying the usurious $450 out of warranty exchange fee. Note that Microsoft committed to a $200 battery replacement program on a Reddit AMA https://www.reddit.com/r/IAmA/comments/26m9cu/we_are_panos_panay_and_the_surface_team_at/chsei5u but has refused to honor this or even comment on it. (And as an aside, Apple charges $129 to replace an out of warranty battery.)
Microsoft told customers in the same Reddit AMA https://www.reddit.com/r/IAmA/comments/26m9cu/we_are_panos_panay_and_the_surface_team_at/chse7pn that "the battery can get charged daily (5 days a week) for over 4.5 years and still maintain 80% capacity". Again, customers are responding in the thread that they can't even use their devices while connected or docked.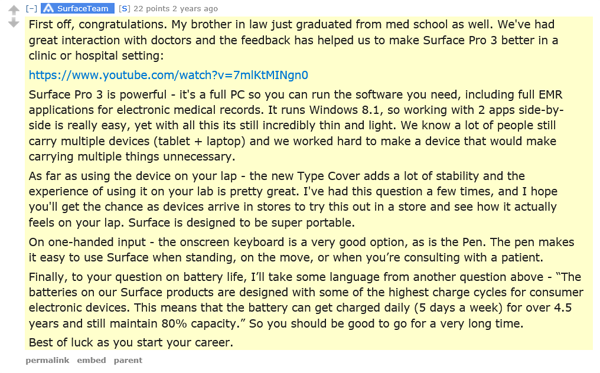 I checked my sent email and note that as a Community Forum Moderator that I brought it to the attention of Microsoft on March 3, 2016. And a couple of times thereafter. I saw the trending that early.
And as of Saturday, March 6, afflicted Microsoft customers have not had a single update on the situation since the initial "we think we can fix in software and are working on a fix".